Weekly Summary – 106 Miles in 12 runs. An amazing week in Quito, Ecuador, capped off with a great race: 1'12'18 for Half Marathon at 9,300 feet (equivalent to 1'06'14 at sea level) on a super tough course. Feeling very strong and excited to work with this fitness.
Don't forget to follow me on Instagram and Twitter (@TylerCAndrews). And, of course, don't forget to check out STRIVE's 2016 Programs, including the newly announced STRIVE-Peru: Spring Break program! You can come do service work and train with me in Peru or Kenya and for 2016, we'll once again have programs for High School and College students, and even a 10-day trip for adults and families, so be sure to take a look if you're interested in an amazing summer experience!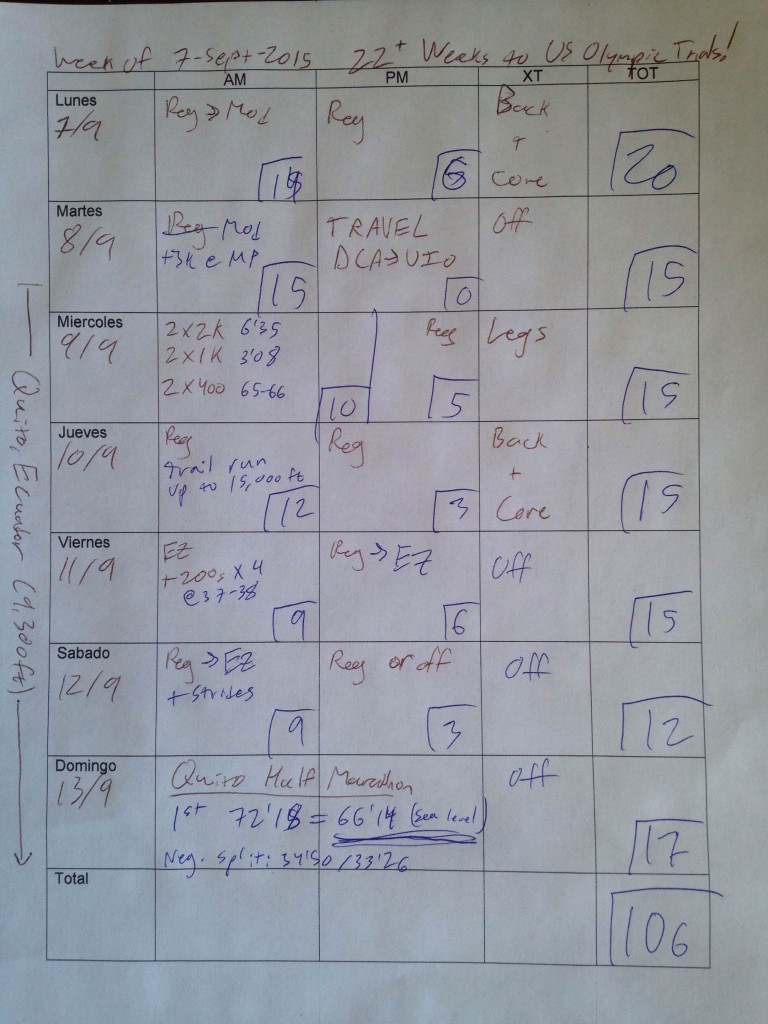 Lunes, 7 de Septiembre, 2015 – 9am: Easy run out past Alexandria and the big bridge. Beautiful day, just a bit hot in the 80s. Felt surprisingly good and was running quick by the end ~3'40/km. Total run 14M+ in 1h39.
XT: Back/Hip strength.
5pm: Easy shakeout around fields and CC. Felt pretty good, still very hot, 90F. Total run 6M in 43'.
XT: Core, 12'
Martes, 8 de Septiembre, 2015 – 8am: Woke up early, naturally, before a busy day of travel. Ran south on MV past Alexandria again. Super beautiful day and only in the 70s because it was early. Felt good so did 10M and then finished with 3km quicker ~MP in 9 '41 (3'13, 3'15, 3'13) just for fun. Felt very good and relaxed. Total run 12M+ in 1h20.
PM: OFF – travel DCA to MIA to UIO. About 12 hours, door to door. Pretty smooth trip. Got a good amount of walking in to keep the legs loose in the airports.
Miercoles, 9 de Septiembre, 2015 – 8am: Slept very poorly last night, despite being tired. I think getting used to the altitude/super dry air. Weird. Woke up before 7am and couldn't fall back asleep. Thought about postponing the workout, but went for it anyway. It's important to note that this workout was done at 9,300 feet above sea level and less than 12 hours after arriving.
Really had no idea what to expect. Jogged down to the Carolina and did 5km warmup which felt pretty normal. Stopped to chat briefly with some fast looking Ecuadorians who were stretching and wearing matching Ecuador sweats. One of them said he's running the 10k this weekend and wants to run 31'! We'll see.
Drills and a few strides and then 200 at pace to try to make sure I had the pace in my legs a bit. A bit quick, but expected that.
First rep felt good, went out a bit too quick in the first 100-200m but then settled right around 80s/lap pace, which is what I wanted to do. Came through in 3'16/3'19 for 8'35.
Second one felt quite a bit tougher but ran the same (6'35).
Took a nice long rest (2'30) before the first 1000m which felt good. Tried to really accelerate through the interval and focus on starting relaxed, which I think will be key up here. Felt good and negative split. Second one was a big negative split as I was 1'38 at 500m, so closed in under 1'30.
Took longer rest again and then ran 2x400m quicker. First one ran great – again focused on trying to accelerate at halfway and ran 34.x/30.x for 65.x. The second one I thought "oh I'm really gonna kill it" and went out in 15.x/32.x and then ran 66.8… ha! PATIENCE is so important up here, it seems. There is much more to be lost by going out a bit too fast than there is to be gained (sounds like a very Nassim Taleb phenomenon). I need to run my race like that first 400m.
I did my leg circuit at the track (no weights obviously) and then jogged to the market to get lunch/breakfast.
Total run 10M+.
Splits (rest 500m jog easy)
2x2000m: 6'35.8, 6'35.0
2x1000m: 3'08.9, 3'07.9
2x400m: 65.3, 66.8
Full Lap Splits:
1 km (3'16.4) 3'16.4
2 km (3'19.4) 6'35.8 – (6'35.8)
2.5 km (2'15.5) 8'51.3
3.5 km (3'18.7) 12'10.0
4.5 km (3'16.3) 15'26.3 – (6'35.0)
5 km (2'33.0) 17'59.3
6 km (3'08.9) 21'08.2 – (3'08.9)
6.5 km (2'04.0) 23'12.2
7.5 km (3'07.9) 26'20.1 – (3'07.9)
8 km (2'39.0) 28'59.1
8.4 km (1'05.3) 30'04.4 – (1'05.3)
8.9 km (2'04.0) 32'08.4
9.3 km (1'06.8) 33'15.2 – (1'06.8)
XT: Leg circuit at the park. 3 sets of [15x step ups, 20x overhead lunge, 24x dynamic lung, 12x squat]. No weight for all.
4pm: Easy shakeout around La Carolina. Felt surprisingly good and was running the same pace I feel like I would have run at sea level. Maybe 90F + humidity = 65F + dry + 9300 feet? Total run 5M in 37'.
Jueves, 10 de Septiembre, 2015 – 8am: Crazy day! Jogged down to the park to meet Ivan and his running club buddies. They were already done, so just hung around and did some stretching with them. After, we came back to the house and then Ivan gave me a ride up to the teleferiqo. I went up solo mostly because I wanted to go up higher and that gets you up to 4000m. I felt good, so decide to try jogging up there. Ended up jogging all the way to the Rucu summit at 4696m – a good amount of walking, especially the last 20 minutes or so which is quite steep and some scrambling is required on the summit ridge. Jogging was extremely hard even at a slight grade. Really absurd – very little oxygen up there.
Beautiful day though. Great views, pretty clear, not too much wind. Stayed on the summit for a while, maybe an hour. Chatted with a bunch of people up there. Very fun. Eyed the route over to Guagua – maybe Monday if I have energy I'll try to do the whole traverse.
Descent was very nice. Scramble down from the summit ridge wasn't as bad as I remembered and once I got to the grassy part, it was very easy to jog all the way back down. In total, it was about 80 minutes up and 40 minutes down. I'll call the whole morning 12M.
3pm: Took the cable car down and then the bus down to the highway. Waited for a while but no bus came, so decided to just run home. Was planning to do a short shakeout when I got home so just counted this as that. Ran basically the width of the city. Total run 3M.
XT: Back/hips.
XT2: Core, 12'.
Viernes, 11 de Septiembre, 2015 – 7:30am Slept super well. Woke up naturally a bit after 6am. Drove with Ivan up to parque metropolitano and ran around on the trails for about 60'. Beautiful morning – nice and cool and great views of Cotopaxi (still fuming), Antisana, and Cayambe. Really nice run. Very easy pace.
Came back down after and stopped at the house to get flats. Got my flats and headed down to La Carolina. Took as long to drive as it would have to run! Ha!
Did full drills and then 4x200m with Ivan at ~goal race pace. Did first two in Clifton 2 and second 2 in Clifton 1 flats to decide which ones I want to wear. I'll probably run in the flats. All felt pretty good ~37-38.
Jogged a bit after to cool down. Total run 9M+.
5pm: Easy run down to La Marin. Ran the first 6km or so of the course backwards. It's quite hilly. Going to be tough. Total run 6M in 45'.
Sabado, 12 de Septiembre, 2015 – 8am: Easy run from the house on the last 8km or so of the course. Nice little climb around 15km but then finishes on the old airport runway for the last 4km or so which is super flat, so should be a fast finish. Did a couple strides down the finishing straight. Really beautiful morning with clear skies. Ran back to the park after to meet Ivan and get our numbers. Total run 9M+.
5pm: Very easy shakeout just because I was feeling antsy and I was sitting around all afternoon. Total run 3M in 22'.
Domingo, 13 de Septiembre, 2015 – Race Quito Half Marathon. 1st, 1'12'16.
Full write-up coming.
Full Splits (from Garmin)
1 km (3'27.9) 3'27.9
2 km (3'33.1) 7'01.0
3 km (3'13.0) 10'14.0
4 km (3'32.2) 13'46.2
5 km (3'36.3) 17'22.5 (17'22.5)
6 km (3'06.4) 20'28.9
7 km (3'29.2) 23'58.1
8 km (3'38.8) 27'36.9
9 km (3'46.3) 31'23.2
10 km (3'28.9) 34'52.1 (17'29.6)
11 km (3'21.9) 38'14.0
12 km (3'20.3) 41'34.3
13 km (3'29.2) 45'03.5
14 km (3'24.5) 48'28.0
15 km (3'19.5) 51'47.5 (16'55.4)
16 km (3'21.2) 55'08.7
17 km (3'15.6) 58'24.3
18 km (3'13.1) 1'01'37.4
19 km (3'12.8) 1'04'50.2
20 km (3'28.6) 1'08'18.8 (16'31.3)
21 km (3'27.0) 1'11'45.8
21.18 km (0'31.1) 1'12'16.8
PM: OFF, rest. Went to Papallacta Hot Springs with Ovi and Rikki and had a nice long soak.