Weekly Summary – 113 Miles in 11 runs. Solid week with a great, tactical win at the Rock N Roll Nashville Half Marathon, a very strong 10K workout (10x1K @ 2'54), a 26 mile long run, and a nice little recovery block. Less than 4 weeks to go now!
Don't forget to follow me on Instagram and Twitter (@TylerCAndrews). And, of course, don't forget to check out STRIVE's 2017 Programs! You can come do service work and train with me in Peru or Kenya and for 2017, we'll once again have programs for High School and College students, and even a 10-day trip for adults and families, so be sure to take a look if you're interested in an amazing summer experience! Finally, I have a few spots open for athletes looking for custom training plans and online coaching. Check out my site and email me if you're interested!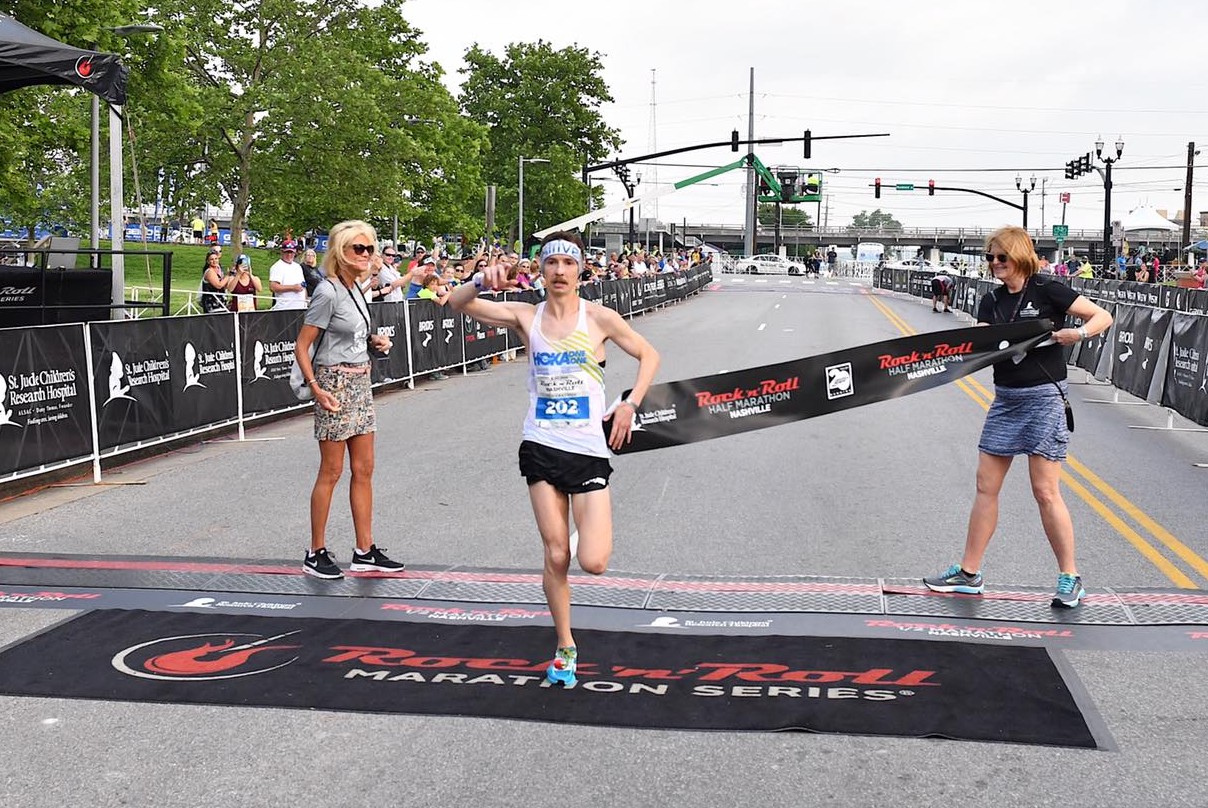 Lunes, 24 de Abril, 2017 – 10:30am: Slept late after getting in at midnight and being up for 22 hours yesterday! Whew! Kind of a gross day, in the 50s, drizzly. Legs felt pretty much normal once I woke up and got out the door. Ran on hilly Arlington ridge loop 3.5x and then over to Costco turf field. Did 10x strides and then jogged home. Felt very good overall. Total run 11M+ in 77'.
XT: Back/hips
5pm: Ran later after STRIVE call. Easy run on hilly loop and then back to hill field, did 6x strides (with shoes on) and then jogged home. Total run 4M+ in 27'.
XT: Hips.
Martes, 25 de Abril, 2017 – Sparknotes: 10x1000m @ 2'54.3 avg (4'41/M) w/ 200m jog rec @ 58.8 (4'54/km). Total 11.8km in 37'52 (3'12.5/km, 5'10/M).
A great speed session today on the last day of this big 20-day block. Legs felt good – glad I took it relatively easy on Sunday. Ran to the TCW track ~6km and then did drills, strides and 200m in about 33.x. Weather wasn't great – drizzle and decent wind in the head on the back stretch. Running 1000s today w 200m jog, so I'd alternate having 3 headwind 200s and 3 tailwind 200s per rep.
This workout is the continuation of the progression (16×600, 12×800) for 10K prep. Last week's 800s felt great and these felt a bit tougher which I was expecting as I had just a bit more fatigue in my legs, plus the wind out there. Decided to actively take the 200m rec much slower and focus on trying to keep the 1000s about the same pace (~70/400m or 2'55/km). This went well and I was able to keep the pace very consistent overall though the wind made some reps a bit uneven.
Again, unlike the 600s, I was pretty sure I'd be able to get through this whole workout after the first rep. I think that's just mentally being used to this pace and level of discomfort a bit more.
I was able to close well on the last one, running 2'51.6 and running the last 400m in about 67. Overall, a great workout and another step towards a good 10 miler, 10K, and marathon in May!
Cooled down short about 2km and metro home. Total run 13M+.
Splits:
Time Split
1 km 2'55.8 1 km (2'55.8) 171
1.2 km 3'53.9 0.2 km (0'58.1) 167
2.2 km 6'48.6 1 km (2'54.7) 176
2.4 km 7'48.5 0.2 km (0'59.9) 170
3.4 km 10'43.0 1 km (2'54.5) 177
3.6 km 11'41.8 0.2 km (0'58.8) 172
4.6 km 14'35.6 1 km (2'53.8) 179
4.8 km 15'34.3 0.2 km (0'58.7) 172
5.8 km 18'29.6 1 km (2'55.3) 179
6 km 19'28.4 0.2 km (0'58.8) 174
7 km 22'23.9 1 km (2'55.5) 179
7.2 km 23'22.0 0.2 km (0'58.1) 174
8.2 km 26'16.1 1 km (2'54.1) 179
8.4 km 27'15.2 0.2 km (0'59.1) 174
9.4 km 30'09.0 1 km (2'53.8) 179
9.6 km 31'07.3 0.2 km (0'58.3) 176
10.6 km 34'01.5 1 km (2'54.2) 182
10.8 km 35'00.6 0.2 km (0'59.1) 178
11.8 km 37'52.2 1 km (2'51.6) 184
3:15pm: Ran to Georgetown Sports Massage. Nasty headwind the whole way, but felt good to shake out. Good deep calve/achilles session with Terrel which helped a lot. Jog/metro home. Total run 10km+ in 45'.
Miercoles, 26 de Abril, 2017 – 9:30am: Ran a bit later after a call this morning. Ran on the hilly Arlington Ridge loop again. Legs felt surprisingly decent once I got out there. Laps about 18'20 (~4'20/km). Finished with half lap to costco turf field for barefoot strides. Did like half of one but have a nasty open cut on my right foot, so put shoes back on and did 10x. Also – saw a beautiful red fox just wander across the soccer field right next to a children's playground and then into the woods. Very cool. Jogged home. Total run 9M+ in 61'.
XT: Back/hips
PM: OFF – session with Terrel only, but no running with recovery block.
Jueves, 27 de Abril, 2017 – AM: No run, lots of time on the walking desk this morning and a very productive work day.
XT: p90x.
3:30pm: Ran on the hilly arlington ridge loop. Much warmer today, in the 80s, and really over dressed, so felt pretty wrecked after two hilly loops and cut back to de-layer. Total run 9M in 60'.
XT: Back/hips
Viernes, 28 de Abril, 2017 – Sparknotes: 6x500m: 1'35.2, 1'37.0, 1'35.7, 1'32.7, 1'29.6, 1'20.2 (1-2min jog/change shoes rec.)
8am: Easy run down to 1K loop with shoes to test drive and figure out what I want to wear tomorrow. 3km easy in ~12'. No strides or drills. Did 6x500m (out/back), with 2 in each shoe (clifton, hupana, then tracer). So, about 1' jog between each and then about 2' of changing shoes every other rep. Tracers definitely felt the best. Hupanas are also great and light but I can feel the road a lot more, so I think recovery-wise I want to go with the tracer tomorrow. Maybe Hupana for Broad street, cleveland, VCM. We'll see. 500s all felt pretty good. Started out very relaxed and worked up the pace a bit on the last 3x. Worth noting that odds were net down, evens net up, so last one at 1'20 was uphill which is very good. Jogged a few laps around 4'00/km and then home. Total run 6M+ in 40'.
11am: Short turn around before PM travel to BNA. Easy shakeout around CC. Beautiful day and got some last minute errands done en route. Total run 3M, NT.
5pm: Got to Nashville and met up with Sam DeFab who is acting as my wonderful host here in music city. Picked up numbers and then did a nice little shakeout with Sam around his campus. Got the full tour including seeing Taylor Swift's apartment, music row, the best pizza and pancakes restaurants in the city, etc. Felt very nice. 80s and humid but didn't feel that warm – good sign. Total run 6km, 4M- in 28'.
Sabado, 29 de Abril, 2017 – Sparknotes: Rock N Roll Nashville Half Marathon. 1st, 1'10'58. Very tough conditions (75-80F, 90% humidity) and a challenging course. Tucked into the pack for a slow 10K, surged, and then ran unchallenged to the end. Last 1km nice pickup in 3'01. Excellent.
5:45am: Woke up a bit before 4am local time for a 6:45am gun. Had black coffee and a nature valley bar and relaxed until leaving for the start around 5:20am with Eric and his dad.
Warmed up with Eric about 2M out/back from the car. Already very warm and muggy and sweating a lot, especially once we turned out of the wind. Changed into flats (tracers) and jogged to the start about another mile and then waded through the giant sea of people to get to the start. Found a reasonable spot to do some drills and got those in and maybe 2 very short strides before having to navigate my way back to the start.
Saw Scott W on the line – wished him luck. Met up with French and Roosevelt as well – I figured they would probably be the competition.
The start of the race is a screaming downhill for maybe 500m. I tried to just jog/fall down the hill and not worry about pace at all. The others seemed to be cueing off of me, so I took advantage and tried to keep the race as mellow as possible. We then basically looped around 1 block and ran right up the way we had come on a (slightly less steep) version of the same hill.
From there, the race was mostly uphill for the next 5 or 6km. There was one very cool stretch where we ran past the start corral, about 2km into the race, which was pretty sweet as they were very loud and excited and there were like 30,000 people there. Definitely a rock star moment. That was fun.
After that, I just tucked in. The pace lagged a lot. There were a few times where I would get a few steps on the group like after a water stop, but nobody seemed to want torn much faster than 3'25-30/km. This felt extremely comfortable at this point, so I was just telling myself to be patient. I figured I would make a small move around 10km to test the waters and maybe split things up (there were 4 of us at this point), and then try to make a more decisive move around 15km.
We ended up just naturally speeding up a bit (partly was my own lack of control of feeling good and my exuberance of being in a race setting) after 5K such that by 10km, it was just me and Roosevelt. I made a small acceleration coming off of the water stop after 6M and could tell he was not going to match it. I had a moment of wondering if I should just stick with him and wait until 10M or something, but at that point, I'd already committed to the move, so I was on my own.
I tried to just maintain a comfortable but steady rhythm for a while. I'd thought that most of the uphill would be over at that point, but there was really never any relenting in the hills. The course was constantly rolling, and so I'm surprised in retrospect how even the splits were from 10-18km (all around 3'17). I ran that 5K (10-15K) in 16'21 and at 10M I could see I was quite well ahead and actively backed off a bit, as I know I have a big effort coming next weekend, and I was pretty sure none of the other 3 were going to catch me at that point.
It's also worth mentioning that it was very warm and humid. I was taking 2-4 cups of water at each station (for head dumping) and was still very hot. The temp during the race as 75-80F but we were in the sun for much of it (the car thermometer read 92F in the sun when we got back). It was a bit brutal. It's interesting to not that the HR when I ran the two slower km (19 and 20) did not recover, which I imagine has to do with heat dissipation.
Anyway, I could see second place behind me, but I was pretty sure he was far enough back that I was all right. I knew I had another gear and opened the legs up in the last km to run (downhill) 3'01 and then 27.x for the last 160m (67s/400m pace).
Did a whole bunch of TV interviews after, which was fun. Ended up doing a lot of standing around and waiting for the awards ceremony (which, I had the timing off by an hour because I never changed my watch to CDT). Finally had to literally run back to meet Sam, grab lunch, pack, shower, and get to the airport.
Overall, this was a great race experience, very successful weekend, and many lessons learned. It's also worth noting that this is the first time I raced in the tracers since Houston (when I hurt my foot) and they felt great today – no issues at all. Actually, the only issue being that this pair is a bit old and worn and there were a few times running on wet concrete where I felt I didn't have great traction. But that's my own fault for wearing old shoes.
I definitely learned a lesson in patience which I think will be key at VCM this year – I think I would have been better off sticking with the plan and waiting until more like 15km, but hey, it worked out here.
Lastly, a very good hot/humid race! No breathing issues (a la 2015 Doha/2016 USOT) and I handled the cooling during the race and pacing/effort very well. Only issue was PRE-race hydration, as I expected there to be water at the start and there wasn't, so I basically only had coffee and a small amount of water before I left and maybe got 2 sips in my mouth during the race. Impressed that I survived that! Drank a lot after!
Big thanks due to STRIVE intern alum Sam DeFabrizio who put me up with his Vanderbilt XC buds. Great to catch up with him meet some new faces. Good luck to all!
Long day of travel home (AA stupidly routed me through Miami to go from Nashville to DC). More work tomorrow!
Total run 19M.
Splits
1 km 3'17.5 (3'17.5) 162
2 km 6'45.1 (3'27.6) 173
3 km 10'07.5 (3'22.4) 175
4 km 13'36.5 (3'29.0) 172
5 km 17'13.3 (3'36.8) 173 (17'13.3)
6 km 20'38.0 (3'24.7) 173
7 km 23'59.7 (3'21.7) 172
8 km 27'17.1 (3'17.4) 172
9 km 30'38.2 (3'21.1) 174
10 km 34'10.6 (3'32.4) 175 (16'57.3)
11 km 37'24.0 (3'13.4) 177
12 km 40'41.5 (3'17.5) 179
13 km 43'58.9 (3'17.4) 178
14 km 47'15.9 (3'17.0) 177
15 km 50'31.8 (3'15.9) 179 (16'21.2)
16 km 53'45.8 (3'14.0) 177
17 km 57'07.3 (3'21.5) 177
18 km 1'00'24.6 (3'17.3) 179
19 km 1'03'54.7 (3'30.1) 179
20 km 1'07'30.1 (3'35.4) 180 (16'58.3)
21 km 1'10'31.3 (3'01.2) 181
21.16 km 1'10'58.7 (0'27.4) 181
Domingo, 30 de Abril, 2017 – Sparknotes: 42km long run in 3h01 on very hilly Arlington Ridge loop, 80-83F and overdressed.
9am: Slept well and didn't feel too bad after yesterday's tactical and hot half marathon in Nashville. Wanted to get in a long time on feet run today, shooting for 2h30-3h00 depending on how I felt, and wanted to do most of it on the very hilly Arlington Ridge loop. Each lap has 251 ft of elevation gain, so the 9x laps was 2,259 ft of total gain over 26 miles.
Felt quite decent running. Very controlled for the first few laps and just got in a great rhythm, had a good audiobook (re-reading "The Goldfinch"). Had a nuun bottle stashed for each lap, which was good – easily drank 1L over the course of 2h45 and could have drank much more.
Also worth noting it was 80F when I started and up to 83F by the end and sunny. I wore track pants and a long sleeve and was very hot but managed well and kept the pace very consistent. Only took nuun and then one gel at about 90 minutes in.
Finished 9 laps at about 2h47 so jogged back and did 3 laps of the 1K loop to round up to 3 hours which was 42k total in 3h01.
Overall, a very nice effort, especially after a race/travel day yesterday. A few easy days now!
Total run 26M+.
Splits
Time Split HR Pace
0.6 km 2'35.0 (2'35.0) 120 (4'18.3)
4.8 km 20'57.0 (18'22.0) 133 (4'22.4)
9 km 39'26.0 (18'29.0) 136 (4'24.0)
13.2 km 58'02.0 (18'36.0) 136 (4'25.7)
17.4 km 1'16'18.0 (18'16.0) 138 (4'21.0)
21.6 km 1'34'28.0 (18'10.0) 139 (4'19.5)
25.8 km 1'52'36.0 (18'08.0) 143 (4'19.0)
30 km 2'10'35.0 (17'59.0) 150 (4'16.9)
34.2 km 2'28'39.0 (18'04.0) 153 (4'18.1)
38.4 km 2'46'55.0 (18'16.0) 156 (4'21.0)
39 km 2'49'08.0 (2'13.0) 156 (3'41.7)
40 km 2'53'19.0 (4'11.0) 160 (4'11.0)
41 km 2'57'22.0 (4'03.0) 162 (4'03.0)
42 km 3'01'21.0 (3'59.0) 165 (3'59.0)
4:30pm: Easy shakeout down to Costco fields which were ocupado so just ran around the outer grass loop 2x and then back. Total run 3M+ in 23'.