The STRIVE Center is an on-going project with a goal of providing a safe space for education and youth empowerment for the town of Pisac, Peru and its surrounding communities. Since 2013, STRIVE has been working with various local groups, including the local public school, local municipal government, the town's community museum, and independent groups, to house and staff the Center.  Currently, the STRIVE Center operates year round, offering free after-school classes for local children and free evening English classes to adults.
The goals of the STRIVE Center are to provide cultural exchange, increase academic performance, and foster a love of learning among the people of Pisac and the surrounding communities. To accomplish these lofty goals, STRIVE, in partnership with and with support of local organizations, will offer year-round after-school English classes and tutoring free of charge to students and adults. These goals will be assessed via bi-annual evaluations of student performance and close communication with teachers and school and local government administrators.  In addition to these educational goals, STRIVE plans to establish a local athletics club to be based in the Center with the goal of promoting athleticism and healthy lifestyles.
As of this writing the STRIVE Center is currently offering after-school English classes three times per week for students and evening English classes twice per week for adults, all year round.  Our local teacher on the ground opens up the Center and leads classes for between 10 and 20 students each day. Classes for adults are aimed at locals who want to improve their language skills for work in tourism, business, or other trades where English is a valuable commodity.
Since 2017, STRIVE has been working in partnership with the Pisac Community Museum. In exchange for help with translation work for the Museum,  the museum allowed STRIVE Center programming to take place in the Museum's courtyard or conference room (on rainy days!). The Center is currently outfitted with two bookshelves and books, multiple tables and chairs, whiteboards and couches for relaxing.
Our goal is to continue to grow these programs as a resource for local students, teachers, and townspeople alike. For several years now, people have shown great interest in the project's mission and many students have been become familiar faces in our classes and around town. It is our sincere hope that, once fully realized, the Center will be able to be maintained and staffed entirely by locals and volunteers, with only periodic assistance and funding from STRIVE and other outside organizations.
2017 Update: STRIVE Center 3.0 and partnership with Pisac Municipality
In the summer of 2017, STRIVE staff and interns connected with various members of the local Pisac government in an attempt to create a partnership with the town such that the STRIVE Center classes could have a more permanent home moving forward. After two years of paying for a private space, STRIVE was encouraged by many local people to forge this partnership so that our funding could go directly to programming and staffing as opposed to renting out a large space in town.
The group ended up connecting with the staff at the Pisac Community Museum. The Museum was very interested in helping support the mission of the Center and also had plenty of space where we could house these programs. In exchange, STRIVE agreed to help translate the many informational placards from Spanish into English in an effort to help grow the Museum's appeal to foreign visitors and help bolster the town's tourism economy.
Thanks to the funding saved by partnering with the Pisac Community Museum, STRIVE Center classes were able to expand from three to five times per week, with two evening classes for adults in addition to the after-school classes for kids. We're excited about the prospect of continuing to work both with and for the town of Pisac for years to come.
2015-2016: STRIVE Center 2.0
During the summer of 2015, STRIVE realized that the construction project at Bernardo Tambohuacso Pisaq (the school at which the Center had been located) was drastically behind schedule (over 2 years and counting).  Our original space for The Center had been in use as a temporary classroom since STRIVE furnished the space in 2013, due to the need of the school for more classrooms while it underwent a serious construction project. We were excited to see our space being used, but it seemed that the school would be needing it for an indefinite period and it was unlikely we'd be able to share the space.
With construction looming farther and farther behind schedule, STRIVE staff and participants put their heads together and found a new space in town that was available to rent.  Our 2015 Summer STRIVErs helped to make this new Center a reality: by moving furniture from the former site, cleaning, painting and simply getting the space ready to host free after-school classes. The Center currently employed a teacher year round and offered free after-school classes three times per week thanks to generous donations from STRIVE participants and friends. In addition to STRIVE groups that come from June to August, other volunteers also helped keep the Center running, by helping out for various periods of time throughout the year.
The STRIVE Center 1.0 (2013-2014)

In 2013, STRIVE began its most ambitious project to date with the development of the STRIVE Center (or, The Center, as we've grown to call it). The Center began as an empty shed next to the Bernardo Tambohuacso Pisaq school, with whom STRIVE was working in the summer of 2013. In less than six short weeks that summer, STRIVE made enormous progress towards changing that empty building into a semi-furnished, functional educational center.
With just over $6000 and the efforts of 30 motivated and inspired people, approximately one third of the Center was finished, with electrical wiring throughout the building, a new floor, freshly painted walls, replaced windows, light fixtures, study-tables, bookcases, school supplies, and a lounge area for students to relax.
STRIVE has lofty goals for The Center and in order to realize those goals we will need help! Our goal is to have enough funding to do the following on a yearly basis, prioritized into tiers below:
Tier 1
Employ a teacher who can open the space for 1.5 hours per day 5 times per week for English, Art or Sport activities (currently funded 5x per week for English class through May of the coming year).
Fund room and/or board costs for volunteers to help with the program from August to May.
Give $500 in school supplies and books to the program.
Tier 2
Rent an adjoining space or partner with the municipality to develop a free fitness center for the community open 5 days per week for 2 hours per day.
Continue to update and furnish the Center.  (Tables, Chairs, Educational Materials, Painting projects, etc)
Tier 3
Sponsorship of exceptional youth for study at Universities in Peru
Continued maintenance of local track and stadium.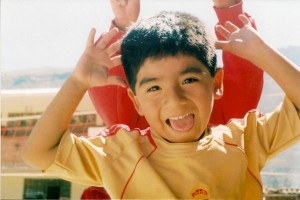 The STRIVE Center is funded entirely through private donation of money and time of amazing people like you! Every donation, no matter the size, goes directly to supplies, staff, and construction on-the-ground, as we have no administrative overhead.
To support the Center, please visit our fundraising page to donate online via youcaring.org, donate via Venmo to @STRIVE-Trips or send a check to our New York City office:
STRIVE Trips
217 W. 18th St., #208
New York, NY, 10011
Funds given now will ensure that The Center will be able to function through Summer 2018.