Footsteps of Champions Overview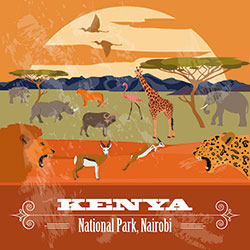 Program Length
10-13 Days
Dates
Aug 6 – 15 or 18
Focus
Daily Adventures

Training and Racing

Relaxation, Fun and Friends
Max Group Size
12 Participants
Cost
$3295/$4195 
Learn from your STRIVE-Kenya Gurus and local coaches, experienced travelers and athletes who are very familiar with Africa and have the knowledge of Kenyan history and culture to help you get the most out of your trip.
Experience traveling through and training in the Rift Valley – the heart of the Kenyan running community and the cradle of humanity – with daily training of 2-12+ miles culminating in a 5k, 10k, or half marathon!
Interact with world-class athletes and coaches in Iten and learn secrets from the best. Past encounters have included world record holders David Rudisha and Wilson Kipsang and legendary coaches Renato Canova and Brother Colm O'Connell. 
Learn about some of the Colonial history of East Africa with a visit to the famous Kericho tea fields.
Finish your journey on a 3-day Safari to the Masai Mara and try to spot

the

Big Five and other marvelous creatures.

Feeling drained? Tack on 3 days and 2 nights and finish the trip relaxed with a visit to the beautiful Diana Beach.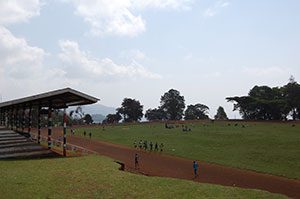 Group size: 6-12
Staff: Two native English speakers with many years local experience, plus our local Kenya coaches, drivers, and tour guides.
Open to: All travelers, ages 13-65. All active activities are optional and always feature different levels of intensity.*

Program Summary
Explore Kenya's Rift Valley and the Masai Mara as you follow in the footsteps of countless marathon champions and search for elephants and lions in the Mara Game Park. This trip is built for the traveler who wants to stay active and explore a new culture while also experiencing the sights of East Africa as more than a tourist. Experience typical traditions in Kenya while meeting locals and learning from your STRIVE Gurus who have worked in these communities for years.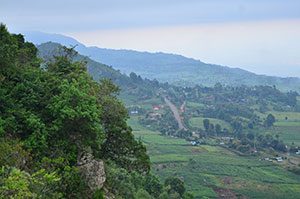 Begin your trip in Nairobi – the nation's capital – before flying over the Rift Valley to the town of Eldoret where you will take the final leg of your journey to Iten. We will spend the first several days and nights at the High Altitude Training Centre (HATC) where we will "run into" many professional runners and coaches as we run, bike and hike the hills of Iten. We may also have the opportunity to meet with legendary coaches like Renato Canova and Brother Colm O'Connell.
A few day trips around Iten will give you a better idea of the beauty of the Rift Valley – the cradle of humanity. Explore the breath-taking views from the local forests as professional runners dart through the trees, a visit to the nearby giraffe sanctuary, and run the same routes as the world's best endurance athletes. Finish up your time in Iten with a 5K, 10K, or Half Marathon, along the same roads with which you've become familiar through the spectacular Rift Valley and flanked by the many champions that call these streets home. 
After departing Iten, venture through southern Kenya as we get a taste of the fresh tea from Kericho and learn about the colonial history of the area.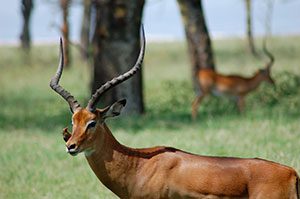 Finally, embark on a safari to the world-famous Masai Mara Game Reserve with experienced, professional guides. Try to spot the Big Five – the lion, elephant, African buffalo, leopard, and rhinoceros. Arrive back in Nairobi for a quick meal, clean up and head home with stories to tell your family and friends!
Feeling tired? For those who want to arrive home feeling totally relaxed, embark on the 3 day/2 night additional excursion to Diana Beach – a tranquil, peaceful location where you can sit back, put your feet up and enjoy a glass of freshly squeezed orange juice.  The beach trip will include options for scuba diving, massages, Swahili cultural museums and much, much more.  Everyone should have a chance to spend your last nights of vacation listening to the soothing sounds of the ocean waves as you drift off to sleep and soak in the memories of an amazing trip.
Day 1 – Arrival in Nairobi
In the evening, be greeted by our experienced STRIVE staff who will be awaiting your arrival in the Nairobi airport. Take a short taxi ride to a nearby hotel for a relaxing meal and night of rest. Watch closely and you may be able to see the giraffes from a nearby game park as we drive to and from the hotel.
Lodging: Best Western Plus Meridian or similar
Meals: Dinner
*Note: you can choose to arrive on the morning of Day 2 if the flight is more convenient. Please contact us with any questions about arrival logistics. We're happy to accommodate as many special requests as we can.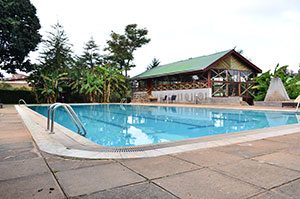 Day 2 – Nairobi to Iten
Have breakfast and then head out for your domestic flight. Enjoy the beautiful view as you fly over the Rift Valley. Have lunch at an Indian or Irish restaurant in Eldoret, the "City of Champions."  Visit a local creamery for some fresh ice cream. There might even be time for some shopping at the "Imani Workshop" where HIV positive women find acceptance through employment while exploring their passion in artistry and business.
Arrive in time for an afternoon tea at the HATC followed by a quick tour of the camp. Settle in before an evening core workout or jog with local athletes (or, just relax and adjust to altitude). Discuss your fitness goals with a local coach or STRIVE staff to begin getting the most out of your time in Kenya.
Lodging: HATC
Meals: B,L,D (with optional morning and afternoon teas, coffee, cocoa with bread and PB/Jam)
Workouts: Walking, gym, or short run 2-5 miles for those coming from altitude
Day 3 – Iten   
After breakfast, and if you feel ambitious, you can brave the famously challenging Kenyan Fartlek training run at 10am.  Many local, and occasionally famous runners take part in this weekly tradition. Take private transport down to the start, where you will rub shoulders with the world's greatest. Do a short warm up, and then run with hundreds of Kenyans (literally) up the hills of Iten to camp. Transportation will be available for those who just want to ride along and take photos of the scenery and athletes along the route or for those who are looking for a shorter workout.  Simply hop in the van and ride back to the HATC where your post-run pancakes and fruit will be waiting.
After lunch, take a tour of STRIVE and Lornah's Foundation projects in the area. Meet local students and participate in fun activities with them on the school grounds. After tea, take a late afternoon walk through the "enchanted" forest just outside of Iten before settling in for a relaxing evening.
Lodging: HATC
Meals: B, L, D (with optional morning and afternoon teas, coffee, cocoa with bread and PB/Jam)
Workouts: Morning run around town and through the forests with the group and Kenyan friends of 2-8 miles. Afternoon cross training available in the pool or gym.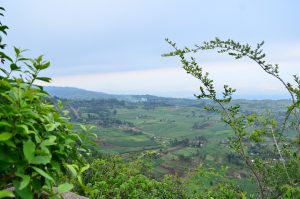 Day 4 – Iten
Take a trip down into the Kerio Valley to see the Kerio Valley Divers in action as they perform nerve rattling jumps into a deep gorge. Visit one of the local sites where spirits are said to live.  After lunch, take a short hike through a nearby forest.  Visit a local running "camp" where budding athletes live in tents and dedicate their life to training.
In the afternoon, join a local Kenyan family for a traditional tea service. Discuss Kenyan cultural traditions around the home and learn some Swahili and Kalenjin phrases.  These phrases are the easiest way to get a smile from the Kenyans! Pay attention, listen and try hard.  It will make your experience better, we promise.
Watch the sunset and eat dinner at the Kerio View Restaurant, overlooking the Rift Valley.
Lodging: HATC
Meals: B, L, special D (with optional morning and afternoon teas, coffee, cocoa with bread and PB/Jam)
Workouts: Morning run around town and through the forests with the group and Kenyan friends of 2-8 miles. Afternoon cross training available in the pool or gym.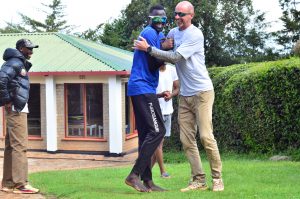 Day 5 – Iten
Learn about traditional diet and training methods used by the greatest runners in the world.
Participate in a Q & A with a panel of local coaches and professional athletes. Past panels have included legendary coaches such as Brother Colm and Renato Canova, along with super-star athletes Vivian Cheruiyot and David Rudisha. They will be giving their input as to what makes Iten the "Home of Champions" and discussing the dedication it takes to make the professional ranks amongst the stiff competition.
In the afternoon test your ability to bargain in the local market and compare purchases and prices to see who got the best deal on that bunch of bananas or Kenyan team jersey.
Easy runs today!
Lodging: HATC
Meals: B, L, D (with optional afternoon teas, coffee, cocoa with bread and PB/Jam)
Workouts: Morning easy, pre-race run around town and through the forests with the group and Kenyan friends of 2-5 miles. Afternoon cross training available in the pool or gym.
Day 6– Iten
STRIVE, in partnership with Lornah's Foundation plans to host and sponsor the Iten Half-Marathon in Summer 2018!  Put those lungs to the test as you compete with yourself, the clock, or the runners around to finish 5K, 10K, or a half marathon on the beautiful red-clay roads.
Enjoy the evening in a post-race party, getting to know the fellow competitors local community members.
Lodging: HATC
Meals: B, L, D, afternoon tea as described
Workouts: Morning RACE of 5K, 10k, or Half Marathon through Iten! Take the afternoon to rest and recover, or do a short shakeout or session in the pool or gym.
Day 7 – On the road to Kericho
Short early morning walk or shake-out run followed by a quick breakfast and our departure from the Home of Champions. As we travel south we can grab a quick "selfie" at the equator.  We will arrive in a colonial hotel in Kericho, known as the "tea district". Learn the history and the importance of tea cultivation in Kenya as we visit and head out for a run along the plush rolling hills if you've got the energy. Be sure to charge up your mobile devices for our Safari!
Lodging: Tea Hotel or similar
Meals: B, L, D, and PLENTY of tea options!
Workouts: Morning post-race recovery run of 2-6 miles. Afternoon hike around Kericho!
Day 8 – Mara
After an "English breakfast" we continue our march south to the Masai Mara, in time for a tour of a typical Masai Village. Learn about local Masai customs as you sit inside a house made of, you guessed it, cow dung. Peruse artwork created and made by the Masai people and help support the local economy (if you want) by bringing some art home with you. Don't forget your daily cup of tea and head out into the wild savannah of Africa for an evening game drive.  This could entail your first lion or elephant sighting.  Come back for a hearty nighttime meal with local dancers showing off their jumping ability.  We're betting they can jump higher than you can. Gaze at the stars without the constant light pollution we encounter back home as lights go out at 10pm!
Lodging: Sidai Camp or similar
Meals: Hearty breakfast, L, D, afternoon tea
Workouts: Early morning run of 2-8 miles in Kericho to shake out the legs before the first game drive! Depending on timing and camp location, there could also be time for running in the evening upon arrival at camp.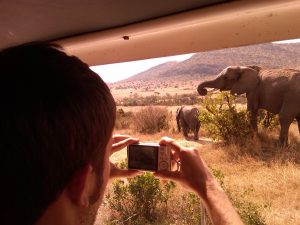 Day 9 – Mara
"Safari" is Swahili for "journey." And Safari we will! Lights come back on at 5am in time for you to grab your camera for a morning game drive. See lions hunting for their daily protein source as we continue our drive through the park to search for the elusive "BIG FIVE." Lunch will be had at a safe distance from the cats under a tree in the park. Stop by the river separating the Mara from the Serengeti where crocodiles await wildebeest making their yearly migration and hippos bask in the sun relaxing and just generally being lazy.
Lodging: Sidai Camp or similar
Meals: hearty breakfast, L, D, afternoon tea
Workouts: Evening shakeout run of 2-5 miles after the game drive around camp – don't worry, the lions don't get too close!
Day 10 – Mara
One last trip out into the wild and a last chance to witness a "morning hunt" and then we'll be on our way to Nairobi.  We'll make a short stop in town, for a shower to clean up and to repack your bags for the trip home.  Savor that last Kenyan meal and stock up on locally produced coffee from a Kenyan favorite, Java House, before heading to the airport for a goodbye to your trip-mates and your flight home.
Lodging: repacking in Nairobi, then catch some zzz on the plane!
Meals: B, L, Goodbye Dinner!
Workouts: Rest or easy early shakeout (2-5 miles) around the campsite before our last game drive and flight home!
Diani Beach Add-On
Day 11
Take a morning flight to Mombasa. Explore Mombasa in the morning, stopping by Fort Jesus and the Swahili Cultural Museum before heading to Diani. Check into our hotel and enjoy lunch at a beachside restaurant. Rest up for a mid-afternoon dive where you can check out the Alpha Funguo wreck and see octopi and a plethora of bright fish and large sea turtles.
Enjoy an evening of dining and drinks on the beach at the famous Swahili Beach or Forty Thieves beachside bar.
Lodging: Diani Reef or similar
Meals: Hearty brunch, D
Workouts: Midday dive, late afternoon run 2-8 miles and/or strength and cross-training at the hotel's gym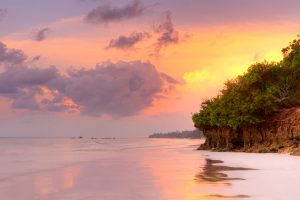 Day 12
After your morning workout and breakfast, contemplate a massage at the resort spa. Enjoy a special Rassoul treatment an added recovery for your skin and body as a conclusion to your tour of Kenya. Take advantage of your last full day to soak in some equatorial sun so you can arrive home refreshed!
Lodging: Diani Reef or similar
Meals: B, L, D
Workouts: Morning run 2-8 miles and/or strength and cross-training at the hotel's gym; take the afternoon to relax!
Day 13
After a relaxing breakfast on the beach. Take a trip through the Shimo La Tewa Cave on your way back to Mombasa airport. Fly back to Nairobi and have a goodbye dinner with your trip mates before catching your evening flight home.
Lodging: repacking in Nairobi, then catch some Zzzzz on the plane!
Meals: B, L, Goodbye Dinner!
Workouts: Early morning long-run 2-12+ miles before the long trip home!
Footsteps of Champions - July 24 to August 2 or 4
Price includes: All lodging, meals as noted, non-alcoholic beverage with meals, domestic airfare and other ground transportation, excursion entry fees, professional guides to lead group activities and help organize free time, 24-hour-a-day support both on the ground and from the US based staff. Price is based on double occupancy; $495 fees applies for single occupancy. $4195 price includes 3 day/2 night Diana Beach add-on
Price does not include: International airfare, visa charges, overweight luggage fees, snacks and beverages outside of meals, personal spending, massages and sports therapy services, internet or cell phone access fees, tips for additional assistance.
NOTE: Are you the non-runner in a family of runners? You do NOT have to be a runner to enjoy the trip. The HATC has plenty of athletic options for other athletes or a nice swimming pool area to relax at and enjoy the noon sun.  During most of our runs, there will be an option to bike alongside runners or ride in our private vehicle between sites, or simply use the time as free exploration time. The choice of athletic intensity is entirely up to you.