Strive Kenya
Service l Athletics l Adventure
Request Info
Enroll Now!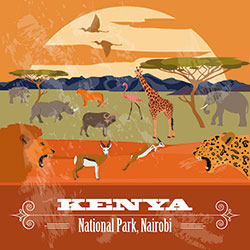 Program Length
21 Days
Dates
July 15th – Aug 4th
Focus
Service:  35-45 hours

Athletics: Daily

Adventure:  Safari
Max Group Size
18 Students
Cost
$4995
"Strive has all the elements of a great experience. For student athletes its an opportunity to train at altitude with elite athletes (in both Kenya and Peru). It's a chance to live in a non-English speaking country, where the food and culture is different from what one generally experiences in the United States.  I love that the programs are small, that the service component of the trip is real (as opposed to paying lip service to the concept in order to rack up hours for school requirements). I love that Nic and Rob and Tyler are dedicated to countries and people among whom the students live and learn and train. 
"I learned so much about running from watching the best in the world in Kenya.  Olympic champions could be found regularly at the track, on the roads during morning runs, and in the gym during the afternoons. As a student, I remember a dinner was arranged where we were able to meet Kenyan pro runners and we also got to go to Kenyan Olympic trials, which was an incredible experience. I feel that learning from the Kenyan runners improved my running as much as the actual training did on the trip."
"You will have an amazing experience with Strive no matter who you are. I am not a competitive runner at all, in fact I have been the worst runner on every single Strive trip I have been on. However, Strive trips continue to be educational and incredibly fun experiences for me. "
"I liked taking easy going morning runs. It was so peaceful and interesting to run in a completely different environment than I do at home."
"Before I left the fundraising did seem a bit laborious, but once I reached Kenya I realized how invaluable those donations were. It felt very good to be charged with determining where the money would go and seeing the schoolhouse literally grow before our eyes was an awesome feeling! Also seeing what the KenSAP kids were able to accomplish and work their way out of the circle of poverty in Kenya was inspiring to a point I've never felt before."
Learn

from your leaders and trip-mates –

about service

and how we can serve others well, about

how to improve as an athlete

(whatever your level), how to

eat ugali like a Kenyan

, and even how to

use "Jambo"

correctly in a Kenyan Swahili greeting.

Be

more than a tourist

as you settle into life in the Rift Valley, get to know the spectacular town of Iten, and

make friends around town

while shopping for snacks and running clothes at the famous "Runner's Point" store

Stay in the

High Altitude Training Center,

run by Lornah Kiplagat, and visited by world class athletes from around the world.  If you're lucky

bump shoulders with the world's best

, like David Rudisha, Vivian Cheriyot and maybe even get that selfie you've always wanted.  

Listen to a legendary coach of the sport,

Brother Colm O'Connell,

on the campus of the world-

famous

St Patrick's Secondary School

where trees are planted for each World Champion or Olympian alum.

Run

side by side along the red clay roads with local school children carrying books and professional marathoners alike.  Utilize the

expansive indoor gym

at the HATC, or join in a

Kenyan Fartlek,

where you'll be one of hundreds (literally) getting better one ste

p at a time.

Visit a nearby

Giraffe Sanctuary,

a community-based conservation and natural resource management initiative for an up close look at those long necks and purple tongues.

Search for The Big Five while on safari in the Masai Mara, one of the most beautiful places on earth, and practice your jumping skills with Masai warriors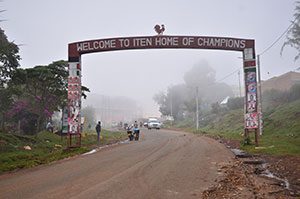 Welcome Home
Located at 8,000 ft above sea level, with majestic views into the valley, Iten is the perfect place to follow in the steps of hundreds of elite runners on the famous red-clay roads of Kenya. The crisp morning air makes it great for a morning shake out run, while the afternoon sun is just warm enough but not too hot for a great workout. In between, visit a number of service projects with which Strive has fostered connections over the years. On the weekends, choose your own adventure as the group will head off to explore Iten and the surrounding countryside.
Service
As with all Strive programs, the first step in service must be learning how we can serve the community we're in. What are the needs of the community? What are we qualified to do? What are the potential pitfalls of our work? How can we make sure we'll be having a positive and lasting impact?
Since our founding, Strive has been helping with a variety of projects at Kamirany and Kiptabus primary schools. Fundraising efforts will be used for building projects, beefing up the libraries with learning materials, and refurbishing classrooms that have been worn down by the harsh rainy seasons of Kenya. You may also help to teach Mathematics, English, and P.E. alongside Kenyan teachers.
Cultural exchange will be an ongoing part of your experience as you help KenSAP students, Kenyan high school graduates that will be attending colleges and universities in the States, prepare for their entrance exams and essays. Don't worry, it won't all be hard work! You'll also enjoy sharing stories and playing board games with KenSAP students in the evenings or hanging out with St. Patrick's Secondary School students while assisting them with college applications and preparation for their national exams.
Strive is always on the lookout for new and beneficial projects and we are hoping to introduce an "Iten Sports Day" next summer, providing an interscholastic competition between Kamirany, Kiptabus and other schools.
Lastly, Strive hopes to help set up, fund and organize a Half Marathon in the community and we'll need lots of help with details and organization to put on a well-run event.
Athletics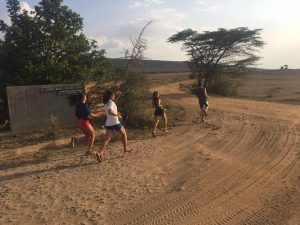 The HATC and surrounding Kenyan countryside have all the basic needs of a budding athlete. Runners can head out on the red clay roads and join barefoot school children or elite marathoners on the hills of the Rift Valley. Use the newly built Mondo surface track for a speed workout or hit the weights in the first class fitness center facilities located within the HATC.
For other sport athletes, there is a swimming pool, soccer fields, indoor facilities, and a basketball hoop for anything you could imagine.
And, if you are a baseball player, cheerleader, dancer, or any other type of athlete, feel free to share your expertise with the local students who may never have heard of your sport but generally get a kick out of learning the new skills and lessons you bring to the table.
Adventure
Your everyday life in Iten will be an adventure in itself! Walking to and from school each day or simply exploring the small town -center can be an eye-opening experience. Weekends will allow time for your group to explore even more of the Rift Valley – trips to take a boat ride in Lake Baringo to see  fish eagles doing their thing, a visit to the tiny town of Kitale – home of professional runner and friend of StriveWesley Korir, or even a chance to witness the death-defying cliff jumpers of the Kerio Valley doing some amazing stunts.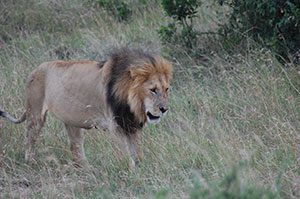 Your adventure culminates at the end of your program with a visit to the Masai Mara Game Reserve. You'll travel by jeep during the day, sleeping in rustic bungalows (that still have warm showers and lights!), and – if the time is right – witness the great migration of wildebeest and zebra across the plains. Keep your eyes peeled for the remaining "Big Five" – lions, elephants, rhinos and more! Your trip ends with a visit to a local Masai Village, where you can experience first-hand the intricacies of their unique, nomadic lifestyle.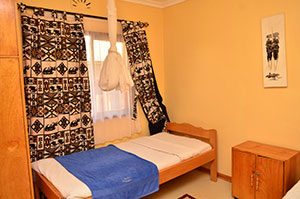 Accommodation
At the High Altitude Training Centre, where you'll stay for most of your trip, you'll be in a room with 1-2 other Strive participants, complete with ensuite bathrooms and solar heated showers. Hang out in the well maintained pool area or manicured lawn – a great place to relax after a hard day of work and training. From your rooms, head over to the dining room next door where the in-house chefs cook up a mix of tasty western and local fare specifically designed for athletes in training.
.
This schedule is flexible and will change from trip to trip, based on the wants and needs of each particular group. We are always tweaking and altering our trips to best suit the individuals of each trip and to account for the inevitable unpredictability that comes from travel in a foreign country. This is an example schedule of what programs in the past have looked like. Your trip will likely look similar, but remember, this is YOUR trip and we design the trip around YOU.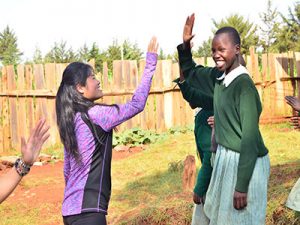 Day 1 – Arrive at Nairobi International Airport where you'll be greeted by your Strive group leaders and meet the rest of your trip-mates! Our private transport will then take you to a nearby hotel where you'll spend your first night in Kenya.
Day 2 – Catch an early-morning flight from Nairobi to Eldoret in the Rift Valley. Once there, our private transport will take your group to the High Altitude Training Centre (HATC) in Iten. Take the afternoon to get familiar with your beautiful new surroundings and begin to acclimatize with a slow afternoon run or workout in the gym.
Day 3 – Walk into Iten's town center and visit the local track or primary schools. Continue with acclimatization, taking the running slowly and learning the local routes. See some of the professional runners working out at the legendary "if you build it they will come" Kamirany Stadium. Meet Lornah Kiplagat – World Record Holder, World Champion, Olympian, and owner of HATC.
Days 4 to 8 – Wake up early and get your run or workout in before heading to school. Spend mid-day working on your service project before heading home for a quick rest. If ready, use the afternoon to work out, swim, and/or run again. If not, use the time to rest or explore Iten with your group leaders and trip-mates.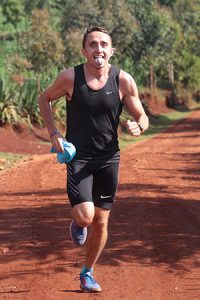 Day 9 – Get in an early long run on the beautiful roads surrounding Iten. In the afternoon, work with KenSAP students on preparing for life in the US or taking the SAT. Later, take a tour of St. Patricks and meet legendary coach Brother Colm, who has coached numerous record holders, World Champions, and Gold Medalists who have passed through St. Patricks – including 800m champ David Rudisha. If we're lucky there might be a Rudisha sighting!
Day 10 – Take today as an optional training rest day. Head out of town with your group for a day trip to hike around the Kerio Valley and see the Kerio Valley Jumpers. Return in the afternoon for an optional easy workout and time spent on your service project.
Days 11-12 – Change of scenery! Visit the home-town and brand new training camp of Wesley Korir – Boston Marathon champion. Take the opportunity to work on a service project in his town and maybe even spend some time with Wesley himself.
Days 13 to 16 – Return to Iten and get back in the rhythm of training and service. Spend mornings and afternoons running and/or working out in the pool or weight room and mid-days working on service projects in the community.
Day 17 – Another early long run through the now familiar red-clay road surrounding Iten. Spend the rest of the day having a relaxing brunch and then take a visit to St. Patrick's school, home to future track and marathon stars.
Day 18-19 – Get in a few last training sessions in Iten and bid farewell to your friends from town with one last day of service. Spend the final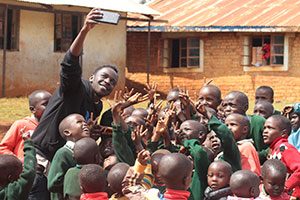 evening with a celebratory dinner with your group leaders, and new friends!
Day 20 – Squeeze in an early run before departing to the Masai Mara for your safari. Spend the drive admiring the incredibly diverse scenery and bonding with your trip-mates. In the evening, take your first game-drive through the national park and have your cameras ready for sightings of the "Big Five"!
Day 21 – Take an early morning run around the national park campsite to loosen up before a day-long safari game drive. Keep your eyes peeled for lions, elephants, zebras, and more. In the afternoon visit a local Masai Village where you'll learn about their customs and way of life.
Day 22 – One more morning run before your last game drive through the Masai Mara. In the afternoon, transfer to Nairobi and catch an evening flight home. Arrive home the next day and tell all your friends about your amazing trip!
We get tons of questions from prospective students and parents, so we've tried to list some of the most common questions and answers below. Still have a question after reading? We'd love to answer – don't hesitate to contact us!
Strive Kenya - July 15 - Aug 4 - 3 weeks
Tuition includes: All lodging, meals, beverage with meals, coaching, ground transportation, excursion entry fees, training facility entry fees, community service placement and support, group tips for in country assistance.
Tuition does not include: International and domestic airfare which must be booked through Strive, Visa charges, overweight luggage fees, snacks and beverages outside of meals, personal spending, massages and sports therapy services, internet or cell phone access fees, tips for additional assistance (e.g. sports massage, etc).
Deposit Due: $500 upon acceptance

Full Program Payment Due: March 1

Payment Plans – Payment plans are available upon request. Simply contact us for details. We're happy to help you and your family work out the plan that will make your trip a possibility!

Financial Aid – We have scholarships and financial aid available for qualified high school applicants. Please visit our Financial Aid page for more details
RT Escorted Flight Hub Airport to Nairobi, Kenya
We want to offer the safest and simplest travel options for our students (and parents), so all Strive high school students will travel to Kenya as a group with Strive staff from our pre-determined US departure airport.
For Strive-Kenya,  participants will meet their leader at a pre-determined location in the U.S. hub airport at least 4 hours before the international flight's departure (exact time TBA). Families are responsible for arranging transportation to and from the hub airport, though Strive  can assist in these bookings as well.
Students will be accompanied to Kenya where their leader will help the group navigate passport control and customs and meet the rest of the staff. The next morning, the group will fly together from Nairobi to their final destination of Eldoret.
On the return flight, students will be chaperoned out of Nairobi, Kenya, through passport control, and back into the US. Once in the hub airport, staff will help direct students for their flights to return home.
If you'd like to discuss the possibility of using miles for the international flight or have other issues that may impact your ability to join the group flight, contact us and we'll work with you to find a solution.
For more information regarding group flights, visit our general Flights and Travel page.