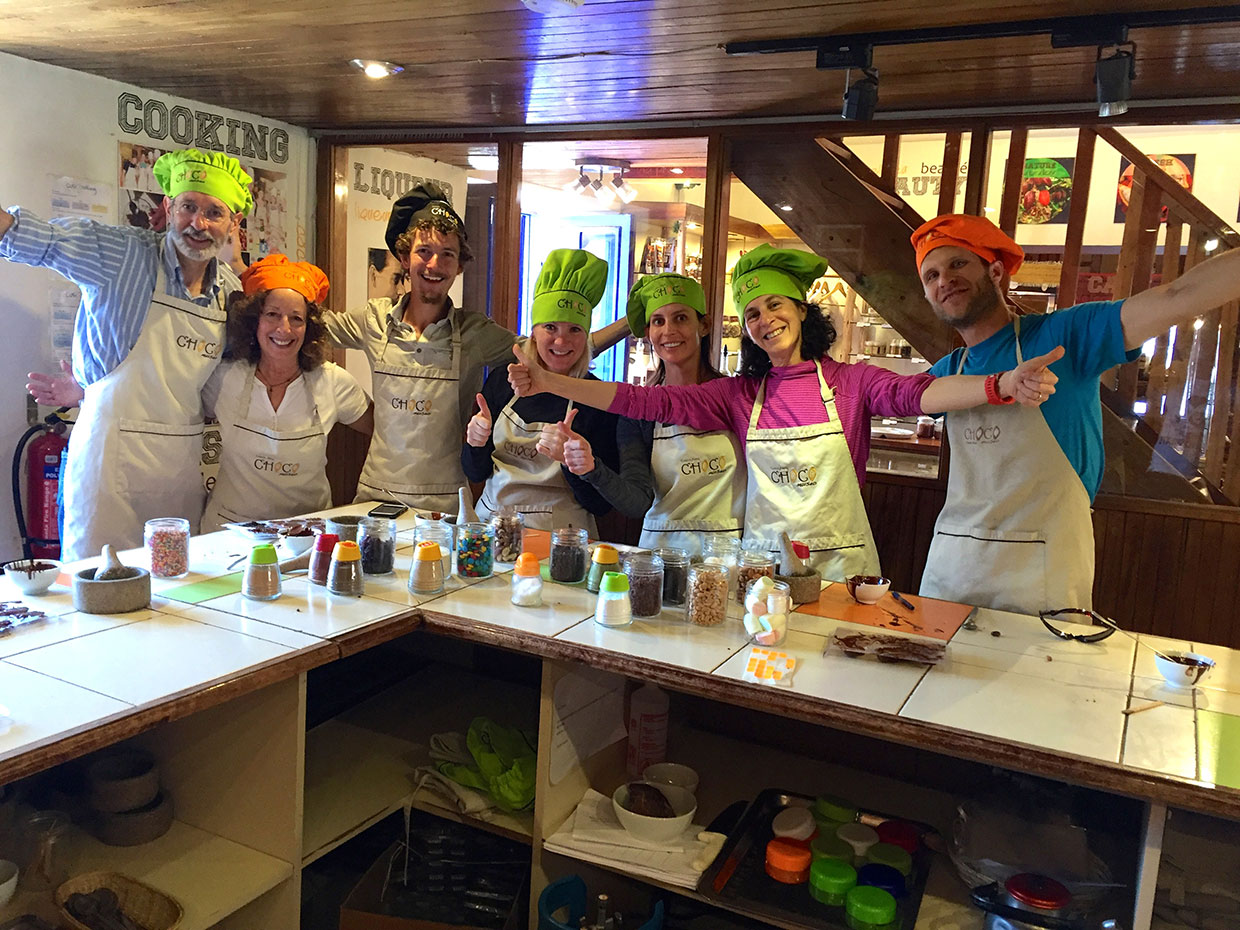 Running to Machu Picchu
Request Info
Enroll Now!
Running To Machu Picchu Overview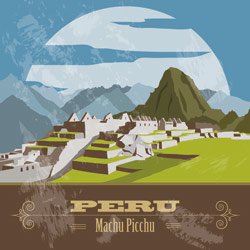 Program Length
10 Days
Dates
Focus
Daily Adventures

Training Opportunities

Relaxation, Fun and Friends
Max Group Size
12 Participants
Cost
$2895
"My favorite part? There are so many great things about the trip: the running, the country, the people (indigenous and fellow-travelers), the hiking, the cows that amble across the Sacred Valley roads, the food, the lodging. The bruises and finger puppets and mountain bikes. Honestly, there was very little not to love." 
"I enjoyed the running, the diversity of non-running activities including hiking, biking, walking tour, hot springs etc, the people and the food. The scope of what we were able to see in a short time period was impressive. I loved that the runs and activities were as challenging as we wanted them to be – i.e. we could run shorter or longer; zip line or rock climb; take the bus or hike to Machu Picchu, bike or hang in the van. Allowed people who wanted to be extremely active to do so; and those who wanted a bit more down time to have that as well."
"I think how the sequence of events each day and what was planned was great. Of course the rock climbing day was an experience and took me out of the comfort zone on some parts. Was glad I didn't know what it all entailed – ha! I loved it – it opened me up to something new and would like to do it again."
"This was very well planned out and I enjoy going on adventures that I may not think of myself! I just like to travel, try new adventures, and this was a good way to meet new people."

Learn from your Gurus – Your guides and leaders during your trip, your Gurus are bilingual, native English speakers with years of experience leading programs in Peru, one of whom is even a world class runner
Experience the magic of Peru's Sacred Valley by running, biking, walking, or riding by private car between tranquil towns along the Urubamba River (2-12+ miles, depending on the day)
Get your adrenaline fix as you fly eye-to-eye with condors on a cliff-side zipline or climb up and rappel down the famous Via Ferrata.
Visit Strive's home base in Pisaq, home to one of the most famous artisan markets in Peru, a hilltop Inca citadel, and then soak in the nearby natural hot springs.
Finish your journey at Machu Picchu – one of the New Seven Wonders of the World – and take in the beauty of the architecture, engineering, and location
*Note: All routes have been run and investigated by Strive staff to be sure of safety and ease of following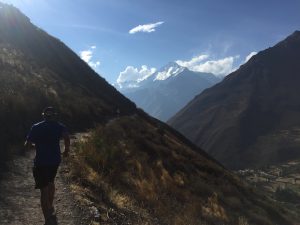 Dates: July 20th – 29th
Group size: 6-12
Staff: Two bilingual native English speakers with years of local experience, plus our private local driver
Open to: All travelers, ages 13-65. All active activities are optional and always feature different levels of intensity.**
Program Summary
Explore Peru's Sacred Valley as the Incas did – on foot! The Running to Machu Picchu program is catered specifically to the active traveler who wants to be more than just a tourist. Experience the natural and cultural beauty of Peru in comfort, while still getting a chance to see the real country, meet locals, and learn from your STRIVE Gurus who have worked in these communities for years.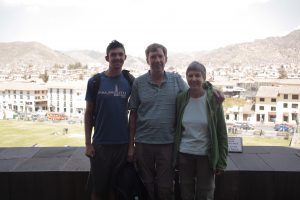 Begin your trip in Lima – the nation's coastal capital – before flying into the Andean city of Cusco. Take a couple days to acclimatize to the high altitude  and explore this beautiful, historic city with guided tours of local sights, a local cocktail-making class, and even a late-night trip to the famous planetarium.
Then head down into the Sacred Valley – arguably Peru's most beautiful area. Start in Pisaq with a trip to the world-famous artisan market before your running adventure begins. Each day, you'll marvel at the spectacular views of snow-capped mountains as you run along the dirt roads through the Sacred Valley, using the afternoons to visit different small towns to partake in local cuisine, natural hot springs, Inca ruins, and even adventure sports.
At the (literal) end of the road in the Sacred Valley, take the path less traveled and head high (think, 14,000+ feet) up into the mountains where you'll then hop on a bike and head downhill on a spectacular ride from the Andes into the Cloud Forest some 10,000 feet lower. Don't worry – it's a smooth, paved road without limited traffic and the route is almost all downhill (and you can also ride in the van and take pictures if you don't fancy yourself a cyclist)! Once there, get back in the van for a quick ride to the Hydroelectric plant where you'll enjoy a scenic, flat walk along the railroad tracks to the small, bustling town of Aguas Calientes at the foot of famed Machu Picchu where you can enjoy a good night's sleep before your day at the ruins.
Finally,  explore Machu Picchu – with a tour from a professional guide and free time on your own. Take the train back to Cusco and then fly back to Lima – the culinary capital of South America – with an optional last stop at one of Lima's famous seafood restaurants before your flight home.
Day 0 – Arrival in Lima
You'll arrive in Lima, Peru this evening (after 6pm)* and your Strive gurus will meet you in the airport and escort you to your hotel in the beautiful Miraflores neighborhood. Enjoy a restful night before your adventure begins in the morning.
Lodging: Hotel Runcu Miraflores (or similar)
Meals: Late night snack
*Note: you can choose to arrive on the morning of Day 1 if the flight is more convenient. Please contact us with any questions about arrival logistics. We're happy to accommodate as many special requests as we can.
Day 1 – Lima/Cusco (0 feet, 11,152 feet)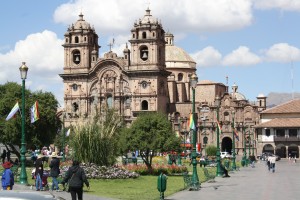 Bienvenidos! Welcome to Peru. Spend the morning enjoying a relaxing breakfast and (if you're up for it) go for a run along Lima's beautiful cliff-top bike path, just steps from our hotel. Then head to the airport for a flight from Lima to Cusco, Peru. Cusco is located at more than 11,000 ft above sea level, so be sure to take it EASY today. In the afternoon, you'll have free time to explore the local markets or relax in the beautiful hotel. Save room for dinner, though, as Cusco is famous for it's many wonderful restaurants. Try to get to sleep early to help adjust to the altitude and prepare for the adventure to come.
Lodging: Tierra Viva Cusco Saphi(or similar)
Meals: B,L,D
Running/Biking: 2-8 miles on Lima's Malecon – a beautiful bike path which stretches for miles from Miraflores along giant cliff-tops overlooking the ocean. A clear day yields an amazing view of the rest of the city as well!

Day 2 – Cusco (11,152 feet)
Continue acclimating to the high altitude of the Andes today with continued in-depth exploration of this beautiful, historic city. Start the day with a guided walking tour of the historic center. Marvel at the hybrid architecture, with Spanish cathedrals built over 16th century Inca stonework. In the afternoon, head to an authentic local market for lunch with your Gurus – a great opportunity to try Ceviche, a famous local fish delicacy, among other things. We'll follow lunch up with an optional Pisco Sour class, where you'll learn the correct way to make and enjoy Peru's national beverage. If you're feeling up to it, take a short afternoon jog to "test the waters." After dinner, take private transport to a hill-top overlooking the city for a visit to the Cusco Planetarium. Your professional English-speaking guide will teach you all about Inca astronomy and constellations and you'll even have a chance to use their telescopes to see the rings of Saturn, among other things, in the night sky.
Lodging: Tierra Viva Cusco Saphi (or similar)
Meals: B,L,D
Running: Let your legs rest today as your lungs adjust to the thin air! Stay hydrated and don't push it if you're not used to high altitude.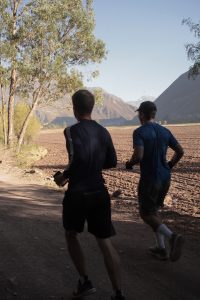 Day 3 – Cusco (11,152 feet) and Pisaq (9,514 feet)
Say "hasta luego!" (see you later!) to Cusco and descend into the Sacred Valley with our private driver. We'll stop along the way at the local animal sanctuary and weaving center, both of which are conveniently located just before Pisaq. Arrive in town for lunch and in the afternoon, your Gurus will give you a tour of the area – the home base for Strive's summer service programs – including a tour of the Strive Community Center, local food markets, and finally a visit to the main attraction – Pisaq's famous artisan market. Get your souvenir shopping done at the world renowned market before meeting for an (optional) group run/bike along the beautiful dirt roads that flank the river. Enjoy dinner in town before an early night with more beautiful running in the morning.
Lodging: Chaska Wasi Hotel
Meals: B,L,D
Running/Biking: Our first run in the Sacred Valley! Runs can head out on the rolling dirt road along the Urubamba River or – for the trail-runners – on steep single-track twisting through the hillside forests for 2-6 miles.
Day 4 – Pisaq (9,514 feet)
Good morning, Sacred Valley! With a few days of high altitude running under your belt, you should be feeling ready to go. Pack up your things for transport on our private vehicle and begin the first of your point-to-point runs along the dirt roads that follow the river. Take in the expansive views of mountains, pasture-land, and tiny towns as you make your way down-stream from Pisaq accompanied by your Gurus and trip-mates. Run/bike distances will vary, with different distances available. Our private vehicle will pick you up and reunite the group in the town of Calca for a refreshing brunch at the local market. Afterward, the group will board our private van and head into the mountains outside of Calca where we'll visit a beautiful and seldom-visited pre-Inca ruin site, Ankasmarka, and then proceed to the natural hot springs in the town of Lares. Take a nice long soak in the hot (and cold) pools set in a spectacular mountain-side setting to revitalize the legs and body for the remainder of the trip. After the drive back to Pisaq, enjoy a last dinner in Pisac before resting up for tomorrow.
Lodging: Chaska Wasi Hotel
Meals: B,L,D
Running/Biking: A point-to-point of 2-10 miles from Pisaq toward Calca (downriver) will take you through small towns and open farmland with majestic mountains towering above.
Day 5 – Pisaq (9,514 feet) to Ollantaytambo (9,160 feet)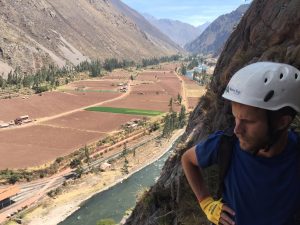 Time for some adrenaline! In the morning, the group can decide on either via ferrata (think rock climbing, but with built in ladders – check it out), zip-lining, or elect to have a free morning to explore and rest. In the afternoon, get ready for another spectacularly scenic morning run or ride, as you continue downstream towards the town of Ollantaytambo, where we'll spend the night. Once again, distances will vary greatly depending on desire and ability. Our private vehicle will pick up everyone at their stopping point and reunite the group in our Ollantaytambo hotel for check-in and showers. Dinner in town and another early night's rest.
Lodging: Intitambo Hotel (or similar) 
Meals: B,L,D
Running/Biking: An easy point-to-point run of 2-8 miles toward Ollantaytambo (downriver) will lead you over packed dirt through the outskirts of town and into beautiful open country. Giant snow-caps tower over the valley surrounding Calca and this run should provide a beautiful view! Very hilly single-track runs are also available for trail-runners.
Day 6 – Ollantaytambo (9,160 feet)
Wake up to another sunny morning in the Sacred Valley. Run from Ollantaytambo and once again follow the river downstream on one of the most beautiful routes of the trip, with the giant snow-capped, 19,000 ft Mt. Veronica towering above you. As always, your run/ride distance is up to you, but today is the best day for your "long run", so go for it! Finish with our private transport reuniting the group in Ollantaytambo – literally the end of the road in the Sacred Valley. In the afternoon, enjoy some free time to explore the cobbled streets of this tiny town, an ancient Inca stone fortress which retains much of its original architecture, and if you have time, check out the famous Ollantaytambo ruins out your back door. Stay at a local hotel or choose to spend the night with a local family as part of a homestay program arranged by friends of Strive at the Awamaki, a US based non-profit that works with local communities in the area.
Lodging: Intitambo Hotel (or similar) or homestay
Meals: B,L,D
Running/Biking: Long run day! A point-to-point of 2-12+ miles from Ollantaytambo all the way to the literal end of the road, carrying us down-river towards Machu Picchu. The route travels through forests, under giant snow-caps, and past many acres of beautiful farm land. Very hilly single-track runs are also available for trail-runners.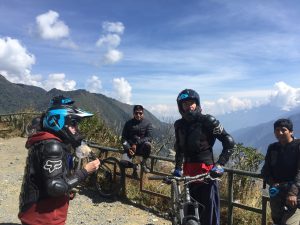 Day 7 – Ollantaytambo (9,160 feet) to Aguas Calientes (6,693 feet)
Regroup in the morning for an early, easy run in the beautiful hills surrounding Ollantaytambo (if time allows). Return to your hotel/homestay for a quick shower and breakfast before leaving town. Our private van takes us up the beautiful, winding road to the high pass at Abra Malaga (14,300 ft) and then we'll hop on bikes and head down, down, down the 50km road into the cloud forest – some 10,000 feet of descent – and then rejoin the van for the remainder of the journey. Arrive in Aguas Calientes in the late afternoon, just in time for a nap to rest up for tomorrow. After dinner, return to the hotel for a good night's sleep before your visit to Machu Picchu!
Lodging: Denny's House (or similar)
Meals: B,L,D
Running/Biking: Early morning shakeout runs of 2-5 miles before a spectacular downhill bike ride from the high mountains to the hot edge of the jungle!
Day 8 – Aguas Calientes (6,693 ft)/Machu Picchu (7,972 ft)/Cusco (11,152 ft)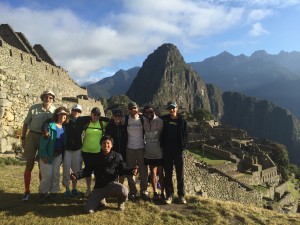 Rise and shine! An early wake-up this morning to maximize your time at Machu Picchu – one of the New Seven Wonders of the World. Make the short hike (1 hour) or take the bus (30 minutes) from Aguas calientes to Machu Picchu where your group will begin its guided tour. Have a bag lunch in the middle of the day and then enjoy free time to explore the site in the afternoon. Return with your group and Gurus in the late afternoon for dinner in town. After dinner, catch the train back for a late arrival in Cusco.
Lodging: Tierra Viva Cusco Saphi (or similar)
Meals: B,L,D
Running/Biking: Take today to simply enjoy your Machu Picchu experience. You'll spend plenty of time on your feet anyway.
Day 9 – Cusco (11,152 ft) to Lima (0 ft) to Departure (39,000 ft)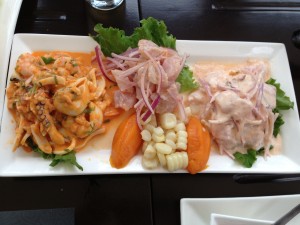 Celebrate your last morning in the Andes and all your hard work with… chocolate! Peru is famous for producing some of the worlds best cacao beans, so take advantage of the Cusco Chocolate Museum where you'll learn about the process and get your hands (deliciously) dirty. Leave the Andes with your own personal, custom chocolates! Finally, say adios to the mountains as the group will head to the airport for a flight back to Lima. Depending on your international flight's departure time, you may have some free time in the afternoon or evening to visit one of Lima's signature seafood establishments (did you know Lima is considered the gastronomical capital of South America?) and/or a short run around Lima's beautiful Malecon – a cliff-side bike path with spectacular views of the Pacific Ocean and downtown. Finally, bid a final farewell to Peru and your trip-mates. Arrive home later in the day or next morning and tell all your friends about your trip of a lifetime!
Lodging: N/A
Meals: B,L
Running/Biking: There may be time for morning runs of 2-5 miles in Cusco depending on flight times. Depending on the timing of your international flights, we may also have time for runs in Lima in the afternoon if you'd prefer to run at sea level or if you'd like to double.
RTMP - July 20 - 29
Price includes: All lodging, meals as noted, non-alcoholic beverage with meals, domestic airfare and other ground transportation, excursion entry fees, professional guides to lead group activities and help organize free time, 24-hour-a-day support both on the ground and from the US based staff. Price is based on double occupancy; fees apply for single occupancy.
Price does not include: International airfare, visa charges, overweight luggage fees, snacks and beverages outside of meals, personal spending, massages and sports therapy services, internet or cell phone access fees, tips for additional assistance.
**NOTE: Are you the non-runner in a family of runners? You do NOT have to be a runner to enjoy the Running to Machu Picchu program. During each run, there will be an option to bike alongside runners, ride in our private vehicle between sites, or simply use the time as free exploration time. The choice of athletic intensity is entirely up to you.
Pricing is based on 6 or more participants.  If we have less than 6 participants in a group we will use the following pricing tiers.

2-3 Participants: $3750/person

4-5 Participants: $3400/person