"I enjoyed the running, the diversity of non-running activities including hiking, biking, walking tour, hot springs etc, the people and the food. The scope of what we were able to see in a short time period was impressive. I loved that the runs and activities were as challenging as we wanted them to be – i.e. we could run shorter or longer; zip line or rock climb; take the bus or hike to Machu Picchu, bike or hang in the van. Allowed people who wanted to be extremely active to do so; and those who wanted a bit more down time to have that as well."
Athletics
In Peru, since the time of the Incas running has been a way of life. From coastal Lima's beautiful cliff-side ocean views to the spectacular towering massif of 19,000 ft Wakaywilka Volcano, every run will take your breath away. Follow your guides along 500-year-old cobbled streets, through pastured farmland, or along gently rolling dirt roads and learn about Peru's Chasqui runners or how to get that marathon time down.
Adventure
Have a hearty breakfast, because we've got more in store once the running is done. Learn about Peruvian culture while exploring museums or ancient cities, indulge at chocolate class, a thermal hot spring, or one of Cusco's premier restaurants. And let the adrenaline flow on cliff-side ziplining or a downhill bike ride through the mountains (don't worry – all adrenaline activities are optional!)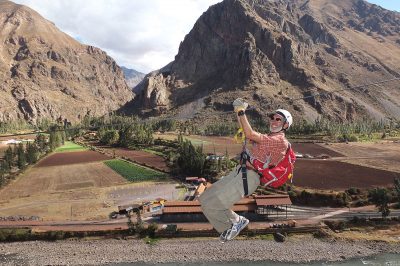 Service
At STRIVE, service is more than just doing. Learn about our philosophy of learning about service and – if there's interest – we can even visit some of the projects we've worked on in Pisac. Plus, a portion of your trip's cost will help support future projects in the area which may include: funding for teachers at the STRIVE Center, refinishing and painting projects, or helping fund programs at the animal sanctuary.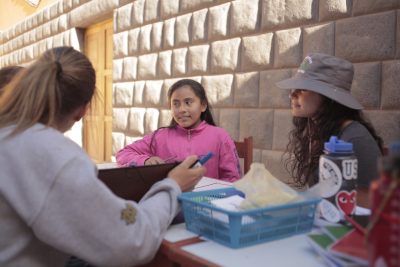 About STRIVE
STRIVE's adult programs were created based on the belief that kids shouldn't have all the fun! We cater our programs to the runner or active traveler who wants to be more than just a tourist.  Experience the natural and cultural beauty of Peru while still getting a chance to meet locals and learn from your STRIVE Gurus. Round out your STRIVE experience by exploring the local landscape and culture. Tour the local weaving center and marvel at the weaving abilities, shake those arms until you create the perfect Pisco sour, or enjoy a sunrise from the steps of the city of Machu Picchu.
Our long-term approach and experience are the STRIVE difference. We have been working with the Pisac community since 2010 and have cultivated friendships and relationships offering us a unique perspective and giving you a unique experience. STRIVE strongly believes in working with and for the community, helping them realize their goals and visions for the future. Community oriented service-learning and integration is our goal; you can help us make it a reality.