On May 27, 2018, I'll return to Burlington, VT to attempt to win the Vermont City Marathon for the third time.
May, 2014
Just over for years ago, I had finished my first marathon (Boston) and was having dinner with my coach, Jon Waldron, at a local Chinese restaurant in Concord. We discussed the race, life, and of what I should do with the next five weeks I had until I'd leave greater-Boston for another summer in Peru with STRIVE.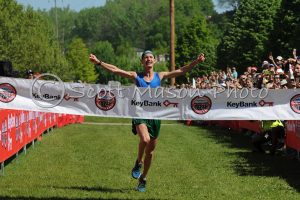 Both of us felt that my debut marathon had gone well; but we also both recognized that I had more to give with this fitness. A back injury sustained from being hit by a car had caused me to miss nearly a month of training during my buildup; and so despite being pretty beat from marathon itself, my body didn't feel like it needed the long break accepted as reasonable after a 26 mile race.
"I think I want to race again," I'd told Jon.
We talked about what might make sense – trying to find a good half marathon, some shorter races, or, maybe, why not run another full marathon? Looking at the calendar, there was only one race that fit and made sense: the Vermont City Marathon, just 34 days after Boston.
As Jon so eloquently wrote at the time, "What Tyler was doing racing five weeks after Boston was not reasonable. Where was his coach to tell him that it was foolish to attempt this? Where was the voice of caution? Oh yeah, that was supposed to be me. If this didn't go well, I would really feel like I had failed him. I would be like the bad dad who gives his kid the keys to a sports car the day after the kids gets his license."
But instead of appearing as the irresponsible parent, Jon ended up the prescient guru: I won the race in a time over a minute faster than my debut just five weeks earlier, redefining what the two of us would see as reasonable.
May, 2017
In my first appearance at the race since my 2014 victory, I arrived in Burlington at the end of what had been – for me – a prolific racing season, with 6 races in 8 weeks. After a long, lonely winter build-up toward the Lake Biwa Marathon in Japan, I'd felt like doing something totally different and found myself jetsetting nearly every weekend of April and May.
I stood on the start line without the confidence of my, by then, so routine bench-mark pre-marathon workouts and with the added pressure of no longer being the underdog, but wearing bib #1, a target on my back.
But all those spring races had somehow made me strong. Despite telling Jon I wanted to wait until at least 30km to take the lead, I found myself surging ahead of my two competitors just after the halfway mark and running alone for the final 20km of the race to win again in 2'19'40.
May, 2018
Now, I find myself preparing to race in Vermont in what seems to be an amalgamation of these last two experience.
As in 2014, I'll be racing VCM after a quick turn-around from a challenging, long race (the Time To Fly 50K on April 13). And like in 2017, I lack the normal "bench-mark" workouts I often have in the month before a marathon, as being at altitude has forced me to reset my training expectations.
Standing on the start-line of a marathon, no one knows what's going to happen. It's not always the person with the fastest PRs or the most high tech shoes that wins the race (just look at Yuki Kawauchi in Boston if you want proof). This is why we run races and don't just contest them on paper.
So, as I wait anxiously for the gun to sound, I won't take anything for granted. As Jon recently wrote to me, "Every day you can run is worth celebrating; actually maybe running *is* celebrating." This has been a joyous journey over the past decade, specifically the build-up here in Quito over these past few months. While these 42.2 km, 26.2 miles, mark the end of this stage, I'll run as a celebration of the long road to get here and the (hopefully) longer road ahead, whether I finish first or last.
But, hopefully, first.