Weekly Summary – 74 miles in 13 runs. Tapering in full force! A fantastic race-effort with a PR for 8km in 23'29. Otherwise, just lots of low-mileage, moderate running (with a lot of that in sweats to prepare for what looks to be a warm race). Less than 1 week to go! This is the moment!
Don't forget to follow me on Instagram and Twitter (@TylerCAndrews). And, of course, don't forget to check out STRIVE's 2016 Programs, including the newly announced STRIVE-Peru: Spring Break program! You can come do service work and train with me in Peru or Kenya and for 2016, we'll once again have programs for High School and College students, and even a 10-day trip for adults and families, so be sure to take a look if you're interested in an amazing summer experience! Finally, I have a few spots open for athletes looking for custom training plans and online coaching. Check out my site and email me if you're interested!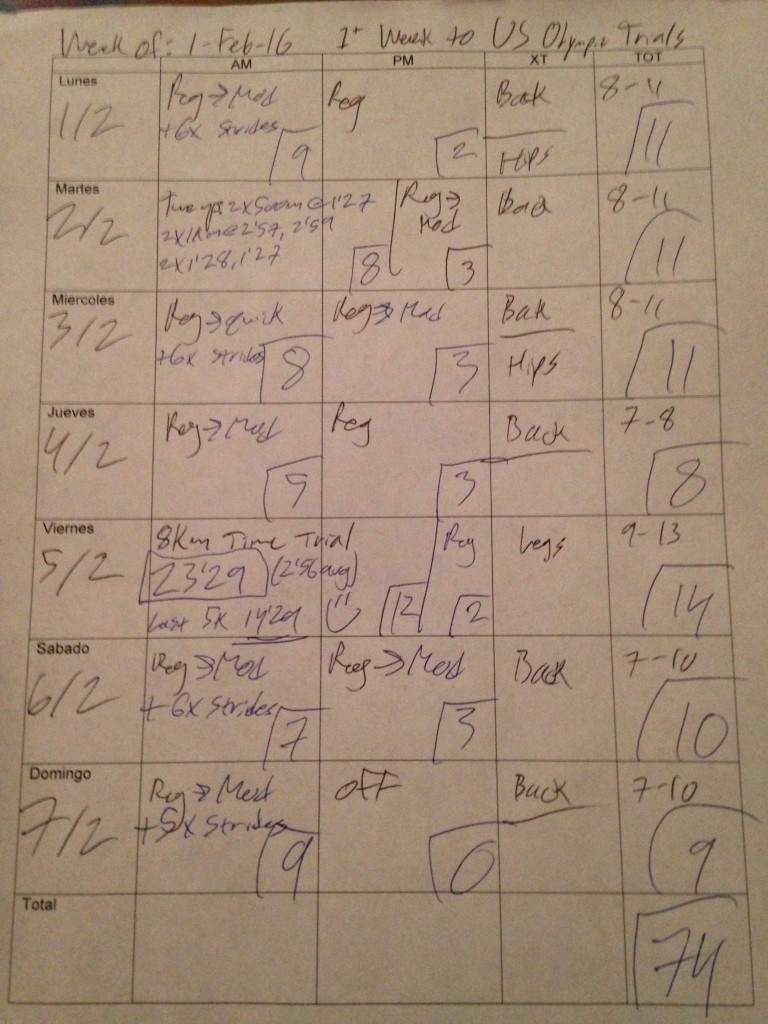 Lunes, 1 de Febrero, 2016 – 10am: Wow – great start to February! Almost 60F and sunny today. Layered up and headed up MV. Mostly melted with a few spots that required stopping and walking through snow/ice. Hopefully all gone with another couple days of warmth. Stopped quickly at Costco and then finished with 1M barefoot with 6x strides. Total run 9M in 60'.
XT: Back/hips (2x)
5pm: Short shakeout indoors in sweats. Barefoot. Total run 2M in 14'.
XT: Hips.
Martes, 2 de Febrero, 2016 – Sparknotes: Very light tuneup. Wheel-measured road loop, 60sec jog rest b/w all. 2x500m in 1'27, 2x1km (2'57, 2'59), 2×500 in 1'27, 1×500 easy 1'35. 5x short hills after.
10am: Woke up naturally around 7am feeling good, a bit hungry so had some animal crackers with black coffee.
Light tuneup today before a last quicker effort on Friday or Saturday. Goal was just to get the legs moving at faster than MP.
Warmed up 4km over to 1km loop and a few laps and then stopped and did drills and a couple strides. Did this workout on wheel-measured 1km loop with each 100m marked, so I was able to pace pretty well. A bit windy and around 40F. Ran this workout in the Clifton.
First 2x500m felt very easy. Tried to run 1'30s and ran 1'27s. Rest was by feel and around 1 minute. Tried to hold back on the 1kms and still ran 2'57 on the first one (shooting for 3'00) after going through in 1'30 at halfway. Second one was better split like 1'31/1'29.
Last 2x500m were about the same pace as the first ones (1'27). I was thinking about trying to run these faster, but legs didn't have another gear today, just felt a bit weak, probably from 35km at 3'14 pace just 3 days ago! I finished with one last 500m VERY relaxed at MP to make that pace feel really slow – and it did, that was good.
After, jogged over to the 22nd st hill and did 5x short hills. Again, these felt okay but not 100%. Legs seemed to lack the top-end speed which I posit is due to the fast long run on Saturday.
Jogged home after ~1 mile.
Total run 8M+.
Splits (60-70 sec jog between all)
2x500m: 1'27.6, 1'26.9
2x1km: 2'57.0, 2'59.5
2x500m: 1'27.8, 1'27.1
1x500m: 1'34.8
XT: Back/hips (1x)
5pm: Ran on treadmill in sweats at 1%. Felt totally fine after this morning – like I hadn't run at all. Just how I want to feel. From 6'40->5'50/mile. Total run 5km, 3M+ in 19'.
Miercoles, 3 de Febrero, 2016 – 10am: Waking up a bit later, this is good. Ran to Costco and back first to get a couple things before the giant storm (just rain). Then ran loops around CCS. Felt very good. Running ~3'30 by the end with no strain. That 5M in 29'. Finished with 1M barefoot and 6x strides. Felt great. Total run 8M in 50'.
XT: Back/hips (1x)
6pm: Got stuck in the elevator for an hour this afternoon – that was fun. Pushed my second run back because of that, which was fine because I'm trying to skew my day later. Ran on the treadmill in sweats (1% incl). Felt very good again, running 6'30->5'25/mile. Felt smooth, just very sweaty. Taper is feeling good so far! Total run 3M+ 5km in 19'.
XT: Hips.
Jueves, 4 de Febrero, 2016 – 10:30am: Slept well. Hungry this morning, so had some animal crackers before running. Ran outside – MV is totally clear. Nice! 50s ad windy. Out/back short and quick. Started out slow but still running quick by 1km or so. 17' out, 15' back for 32'0x total for 5M. Total run 5M.
XT: Back/hips (1x, no weight)
6pm: Very easy shakeout on treadmill in sweats. Felt good. No problem, just kept pace very easy with last workout tomorrow. Total run 3M+ in 24'.
Viernes, 5 de Febrero, 2016 – Sparknotes: 8000m time trial at TC outdoor track. Ran 23'29, splitting 12'00/11'29. Last 5k in 14'29, last 3k in 8'33, last mile in ~4'30, last 400m in 63.8. Felt fantastic. Could have run faster if I hadn't held back first 4km.
10am: Woke up naturally at 9am. Did very easy shakeout around 10am before last work. Total run 2km in 10'.
1pm: Last real workout today before the Trials! As with previous big races, Jon likes to have me do a race-like effort (over a shorter distance) 7-10 days out from a marathon. In the past, I've done between 4 miles and 10k. The purpose of these runs is not to build fitness, but to "remind" the body what it's like to run hard without running for a very long time (only 20-30 minutes). This generally leaves the legs less beat up than the longer workouts I'm used to up to this point but gives me a great workout and – if it goes well – a nice confidence boost going into the last week. It's also just a great way to "blow off some steam", which can be important, especially with the excessive energy of the taper and the pre-race jitters.
I tried to treat this workout like a race. I planned to start right at 1pm (which is 10am PST and I've been gradually moving my body over to PST, so it didn't feel too late). I also took a very easy day yesterday, and I've already been feeling great from 1 week of tapering.
I wanted to make sure I did an extra intense warm-up, since I'm just to just jogging a few minutes and then hopping into a long workout. With this, I didn't have time to feel lousy for the first 10k as my body warmed up, so I did an early shakeout and then warmed up longer (over to the track, about 3.5 miles) and did full drills, about 4 strides, and then a 200m at about 34. It was not too cold (in the 40s and sunny), but a bit windy on the back stretch. I ran in flats and tights, jacket, hat, gloves.
The goal with this one was to run 3'00/km through the first 4km, then run something like: 2'58, 2'56, 2'54, 2'52. This would bring me in around 23'40. I haven't done much continuous runs at 3'00 pace or faster (mostly just shorter fartleks), so I really didn't know how that was going to feel. I was actually a bit nervous, as I was worried that 3'00 pace would feel very fast after a few km and I would struggle in the second half. I'm not sure if it's the taper, the fact that I was running on a track for the first time in a while, or what, but I felt really good just clicking off 71-72s 400s.
I wasn't even thinking about it and suddenly I was at 3km in 9'00 and then 4km in 12'00 and started to pick it up. From there, I tried to hit my watch each lap (I'd just gotten Ks at the start), and tried to run just a bit faster each lap. I ran the first 4x all around 70-71 and then tried to keep accelerating to like 68-69. I was still feeling great with 800m to go but I waited until about 500m to go to really shift gears. I had WAY more than I thought left and felt great, barely rigging at all in the last 150m, to run 63.8 for the last 400m and 2'45.7 for the last km.
The total time was 23'29, splitting 12'00/11'29. Last 5k in 14'29, last 3k in 8'33, last mile in ~4'30, last 400m in 63.8.
I felt winded but not at all wiped like I'd just run a track 10,000m or something. I think holding back in the first half really kept things under control. I felt quite good on my cool down home and energy level was good for the rest of the day.
Overall, this was just what I wanted. A great effort that was quite hard at the end, but definitely not all out and not something that will leave me destroyed for days to come. This is definitely the best pre-marathon tune-up race/time-trial I've ever done and gives me a ton of confidence as I go into race week in the best shape of my life. Now, it's all about just staying healthy, keeping in the routine, and keeping calm. 8 days to go!
Total run 12M++.
Splits
1 km 2'59.3 (2'59.3)
2 km 5'58.9 (2'59.6)
3 km 9'00.4 (3'01.5)
4 km 11'59.7 (2'59.3)
4.4 km 13'11.0 (1'11.3)
4.8 km 14'21.4 (1'10.4) (2'57.2, ~14'56 5K)
5.2 km 15'32.0 (1'10.6)
5.6 km 16'42.3 (1'10.3)
6 km 17'50.5 (1'08.2) (2'54.0)
6.8 km 20'09.4 (2'18.9)
7 km 20'43.6 (0'34.2) (2'53.1)
7.2 km 21'17.7 (0'34.1)
7.6 km 22'25.5 (1'07.8)
8 km 23'29.3 (1'03.8) (2'45.7)
XT: Light legs at gym. 2 sets of [15x step ups, 20x overhead lunge, 24x dynamic lung, 12x squat (bar)]. (non-weighted, 2 sets only)
6:30pm: Very easy shakeout on treadmill in sweats, just to get the legs moving and blood flowing a bit. Total run 2km+ in 10'.
Sabado, 6 de Febrero, 2016 – 11am: Slept well and long last night. Basically on Pacific Time now, which is great.
Ran easy around CCS. A bit tired at first but felt quite good after 20min or so. Running quicker by the end under 4'00/km without really trying. Finished with 1M with 6x strides barefoot. Total run 7M+ in 51'.
XT: Back/Hips (1x, no weight)
6:30pm: Easy run on treadmill in sweats. Felt fine. Total run 5km+, 3M+ in 19'.
Domingo, 7 de Febrero, 2016 – 11am: Longer single this morning with no PM run. Ran around CCS. Felt pretty good, running quiqcker by the end. Taper feeling tapery. First day of depletion, so this is probably the last run that will feel good until wed. Finished with 1M barefoot with 5x strides. Total run 15km+, 9M+++
XT: Back/hips (2x, no weight)
PM: OFF, tapering! Walked a fair amount en route to super bowl party at Alexis'.