Weekly Summary – 69 miles in 11 runs. A great (though slow) race at the ultra-competitive Cleveland 10K and a solid tuneup workout on Thursday. Into serious taper-territory now. One more to go!
Don't forget to follow me on Instagram and Twitter (@TylerCAndrews). And, of course, don't forget to check out STRIVE's 2017 Programs! You can come do service work and train with me in Peru or Kenya and for 2017, we'll once again have programs for High School and College students, and even a 10-day trip for adults and families, so be sure to take a look if you're interested in an amazing summer experience! Finally, I have a few spots open for athletes looking for custom training plans and online coaching. Check out my site and email me if you're interested!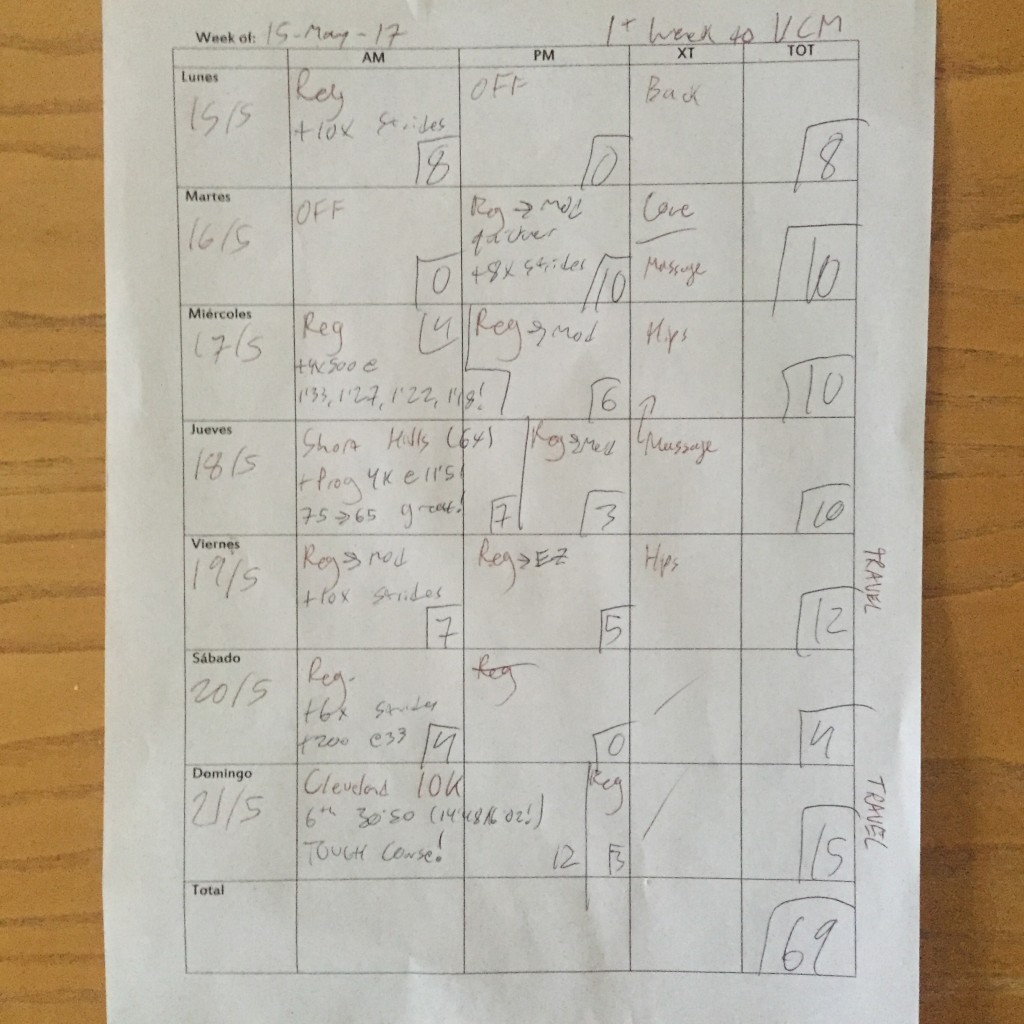 Lunes, 15 de Mayo, 2017 – 8am: Easy run on HAR loop. 2 laps pretty slow today after a big day yesterday (over 19'00) and then to the costco turf, 10 barefoot strides very relaxed. Jogged home. Much nicer today again, looks like late spring/early summer sunshine and warmth is here for a while! Total run 8M+ in 61'.
XT: Back/hips (1x weight)
PM: OFF – rec block so AM session only. Productive afternoon!
Martes, 16 de Mayo, 2017 – AM: No run, bunch of time on walking desk. Recovery block! Last one of the season…
XT: P90x
3pm: Ran earlier to Georgetown sports massage so I could get in a full hour before my appointment. Felt very good out the door and was running much quicker 3'50-4'0x no problem. Ran out/back on C&O and did 8x ~120m strides which felt really good. Also a beautiful day, around 80F, sunny. Duck and goose families with youngsters were out. A glorious time to be alive.
Good session with Terrell after opening up the hips. Jog/metro home. Total run 10M in 62'.
Miercoles, 17 de Mayo, 2017 – 7:30am: Up earlier again. Getting on a good sleep cycle. Ran on HAR loop to the 1K and then stopped and changed into tracers and did 4x500m w/ 500m jog. More like long strides, but each one faster from very relaxed (1'33) to fast (1'18). Legs felt very good this morning and 1'18 is very fast on this course, maybe the fastest I've ever run (and fairly even too, like 30.x/62-low/1'18.1. Also warm already around 70F and sunny and overdressed a lot (tights, 2x long sleeve, hat/gloves. Ran the 500s in tights and long sleeve. Jogged home after. Very good morning. Total run 7km, 4M++ in 30'.
(Road loop, tracers)
4x500m: 1'33.4, 1'26.7, 1'22.1, 1'18.1

XT: Hips
4:15pm: Ran later with later session w/ Terrel. Very warm out, around 90F. Wore track pants and long sleeve. Ran very easy and still ~4'00/km. Good flushing session and then jog/metro home. Total run 10km in 40'.
Jueves, 18 de Mayo, 2017 – Sparknotes: 6x short hills + 4km blowout (track) in 11'37 (75.x->65.x)
7:30am: Light workout this morning with race sunday and into taper mode. Just a few short hill and blowout on the track. Metro down to Braddock and then jogged 5km or so warmup, drill, a couple accelerations. In tracer flats for hills. Felt very good. Ran in long sleeve and tights, already around 70F. Last one ran all the way to the top in 37 sec which is as good as ever.
Jogged over to track after ~1km, did 200m just loosen up again in about 36 and then into it.
Absolutely crushed it today. Goal was every lap faster than the previous, starting around 75 and working down to as fast as I could close. Did 8 laps of this last time and struggled much more than today. Perfect running. Very, very strong. About as fast as I've ever done this. Last 3 laps were very tough but I had way more left than I though. Legs are already feeling very good from drop in mileage and I definitely feel better running faster than I have in a long time.
Total 4km in 11'51. Last km 2'48.9, last 1600m 4'33.5.
Jogged back to metro about 1km and home for ethio, etc.
Total run ~12km, 7M+.
Splits
Time Pace HR
0.4 km 1'15.3 (1'15.3) 162
0.8 km 2'29.3 (1'14.0) 170
1.2 km 3'42.7 (1'13.4) 171
1.6 km 4'55.3 (1'12.6) 172
2 km 6'07.2 (1'11.9) 174
2.4 km 7'17.8 (1'10.6) 176
2.8 km 8'27.7 (1'09.9) 178
3.2 km 9'37.2 (1'09.5) 178
3.6 km 10'45.5 (1'08.3) 178
4 km 11'51.3 (1'05.8) 180
4pm: Easy shakeout around CC. Hot, 90s and sun! Felt like Bangkok today. Total run 4km in 16'.
Viernes, 19 de Mayo, 2017 – 7am: Continuing waking up a bit earlier each day. Very good! Ran easy on HAR loop 2x (18'10, 17'03), that second loop might be the quickest I've run. Didn't feel yesterday at all. Feeling very taper-y. Great. Jogged over to AR field after and did 8x strides (in shoes) on grass. Felt very good there as well. Ran home after. Warm already in the 70s, wore track pants, long sleeve, jacket, hat/gloves. Very sweaty by the end, but didn't feel bad running. Total run 7M in 43'.
PM: Travel to CLE. Unreasonably pleasant day and had a lovely walk to the airport. Smooth trip, short flight and free shuttle to the hotel and then uber downtown, picked up my number, swung by the HOKA booth at the expo, and then jogged from there. Ran basically the first 5km of the course (plus some to get to the start). The elevation profile is definitely off or extremely exagerated as the first mile is basically flat (says it gains like 150 ft in 1st mile – no way). It's pretty flat until about 3km where there's a nice downhill to the lake, flat along the lake for a bit, and then a nice uphill coming back into the city. I then got kind of lost trying to follow the course map but was basically at the finish so I ran out/back over the last mile or so which features a VERY serious bridge with a lot of gain and then loss on the other side. So, we'll have a very tough climb but then a nice long downhill the last 500-1000m I'd guess. Overall, I don't think it will be a super fast course, especially given that it's supposed to be humid, warm, and stormy. The field is super loaded with 10 guys that have run between 27'28 and 29'19. Cracking into that top 10 sounds like a good day!
Total run 5M+ in 36'.
Sabado, 20 de Mayo, 2017 – 7:30am: Drove out to 2nd Sole Running Store with HOKA Ohio Reps John and Stephanie. Had a great time with them, met lots of people, and got in a very easy, nice shakeout with Stephanie and another woman who is racing the marathon tomorrow. Really beautiful bike path along the river – so much more pleasant than yesterday's run! Legs felt very good and felt nice to run slow. Finished back at 5km in about 26' and then switched into tracers and did 6x strides on pavement and then about 200m in ~33. Felt very good! Ready to go tomorrow! Total run 6km, 4M- in 30'.
PM: No run, about 45 minutes walk/jog in the pool which felt very nice (mostly to just get out of the hotel room and move). Ready to go!
Domingo, 21 de Mayo, 2017 – Sparknotes: Cleveland 10K: 6th, 2nd American, 30'50 (split 14'48/16'02 (!!) thanks to MONSTER hill and 5'37 5th mile!). Very good effort in super loaded field and tough weather. Great!
6am: Woke up before my alarm around 3:30am. On a great early sleep cycle for these last two early races. Felt very good, walked around a bit, had black coffee, nature valley bar, got some work done. Uber to the race around 5:40, arrived just before 6am.
Warmed up 5km around the first 3M or so of the course. Not too warm (around 65F) but humid and VERY windy, especially in the downtown area where it was real wind-tunnel-y. Figured this would be a factor and hopefully would slow down the front of what was a super loaded field (10 guys with PBs under 29'12 including 27'25 and 27'55 guys). I figured if I could break into that top 10, that would be a great day. Felt good on the warmup, legs peppy. Did about 6 strides or so and got to the line with a few minutes to spare.
Got off the line well and tucked right into the lead pack. Pace felt manageable and garmin had the first km at 2'55 on a flat K with the wind behind us for the first half, so that makes sense. I tried not to pay too much attention to the garmin, though, as it was struggling with the big buildings downtown and there were mile markers that seemed accurate.
We passed 1M in ~4'37 and I was still with the leaders. This was about what I expected and probably a bit aggressive. The pack then began to split and I hung back with a secondary group with Amos Sang (28'4x PB) and Eric Lagat (29' PB). We hung together through about 2M (9'20, 4'43 second mile) and then those two broke away going up a hill in the 3rd mile. I passed 3M in 14'17 and there was not marker for 5K, but interpolated about 14'45-50. The other two were about 5 seconds in front of me and I could already see some stragglers coming off the lead pack, which was probably about 10 at that point.
The race then basically ran uphill from about 3.5 to 5M, with some flat as well. We had an uphill bridge just before 4M (19'20) and then a monster hill just after 5M for about 1km, then a right turn, then another big uphill all the way to the 5M mark.
I caught Amos on the hill and he looked tired, so I had my eyes set on Lagat who was now about 5-10 seconds ahead after running hard up the hill. I purposefully ignored that split as I didn't want to freak myself out and was just focused on catching those guys in front of me.
I began closing the gap on the long straightaway leading up the to bridge around 9km and I was sure I could catch this guy. I could see Colley way ahead and figured he was out of reach unless he really imploded.
The climb up the bridge was very tough but I knew at least we would have some relief or about 500m on the other side, so I pushed very hard, running 4'53 for a big uphill (and then some downhill) 6th mile. At 6M I went hard a little bit down the bridge and then a slight uphill to the finish. I was closing the gap but just ran out of room and finished 4 seconds back for 6th place in 30'50.
So, the time was very slow, obviously, but most of tha can be attributed to the two hills in the 4th and 5th miles, which I think easily take off 40-60 seconds (as that 2M was 10'40!). I ran very well and raced well and moved up in the second half which is always great. Plus, the guys I beat were very good: Sang is a 28'40 guy, Rotich, Kiprono, and Kiptoo (all behind me) are 28'30-29' guys. Not at all what I expected (Amos and I cooled down after the race and he said the course was very different this year: the big hills and a ton of turns, 17x 90 deg turns). I mean he ran 29'12 last year and ran 31'05 this year! The guy who won ran 28'58 or something and has run 59' for HM, so that's slower than his HM pace.
A very good effort overall and very pleased with the day. I was feeling pretty negative about this race a few days ago with the awful forecast and the crazy field, but this was really good. I think that on a flatter course I could have maintained that early pace which would have been in the mid 29 range, which is right where I'd expect to be on the roads right now (maybe close to 29'00 on the track).
Cooled down with Amos and the Kenyan squad on the grassy knoll outside the VIP area. Felt pretty good. About 5km total.
Time to rest up now, recover, and give it one last big effort next weekend at VCM!
Mile splits (from race mile markers)
1M: 4'37 – 175
2M: 9'20 (4'43) – 178
3M: 14'17 (4'57) – 178 (~14'48 5K)
4M: 19'20 (5'03) – 179
5M: 24'57 (5'37) – 180
6M: 29'50 (4'53) – 176
10K: 30'50 (4'39/M pace) -181
3:30pm: Smooth travels home from CLE. Walked back from the airport and then headed out for a nice shakeout. Ran very easy on HAR loop and overdressed a lot (2x long sleeve, hoodie, jacket, hats gloves, tights, about 72F cloudy). Sunday might be a bit warm so going for that last bit of heat adaptation. Felt pretty good. Ethio, ice bath after. Total run 5km+, 3++ in 23'.