Weekly Summary – 125 miles in 13 runs. A HUGE run at Mohawk Hudson Marathon with a personal best (2'15'52), win, and course record. In fantastic shape. Ready to focus on training for the CONDITIONS in Doha – I don't need to get any fitter. Less than 5 weeks to go.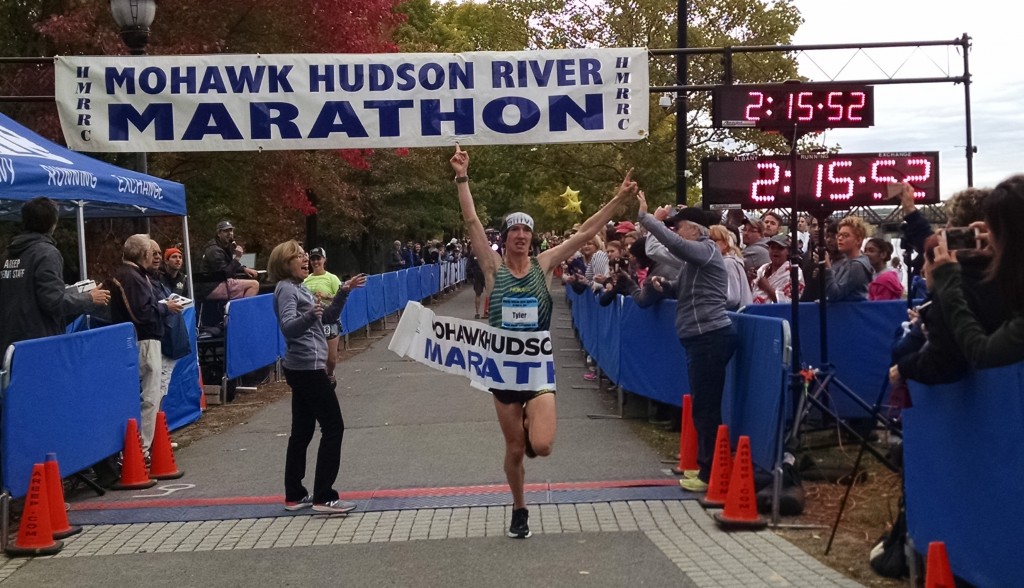 Don't forget to follow me on Instagram and Twitter (@TylerCAndrews). And, of course, don't forget to check out STRIVE's 2017 Programs! You can come do service work and train with me in Peru or Kenya and for 2017, we'll once again have programs for High School and College students, and even a 10-day trip for adults and families, so be sure to take a look if you're interested in an amazing summer experience! Finally, I have a few spots open for athletes looking for custom training plans and online coaching. Check out my site and email me if you're interested!
Lunes, 3 de Octubre, 2016 – 7:30am: Getting on this earlier sleep cycle! Nice morning – ran Matt's loop and felt pretty good despite yesterday's effort. In the 60s, wore 2x long sleeve, tights, jacket, hat/gloves – was comfortable. Trying to keep that heat acclimation for another 3 weeks! Total run 11M in 77'.
XT: Back/hips
3:30pm: Nice nap and relaxing work day. MS run around CC to Simon and USPS, so a few stops. Very nice day, in the 70s and sunny. Starting to feel a bit logey as CHO depletion started this morning. Finished with 5x strides on grass where some stupid dog almost bit me. Dumb owner. Total run 4.5M in 35'.
XT: P90x.
Martes, 4 de Octubre, 2016 – 7:30am: Pretty tough run after 24 hours of CHO depletion. Felt pretty awful. Ran out/back on MVN. Cool this morning, in the upper 50s, low 60s, but sunny at least. Wore a lot of layers as always. Total run 8M in 61'.
XT: Back/hips
4pm: Still feeling pretty weak from CHO depletion. Nice day though – 70s and sunny again. Easy run around CC. Finished with 5x strides. Total run 5km, 3M+.
XT: Hips
Miercoles, 5 de Octubre, 2016 – Sparknotes: Tuneup – 10km in 32'15 with 5km @ 50K pace (16'31), 5km quicker (15'44). Very depleted but felt great nonetheless. Very relaxed.
7:30am: Last tuneup today before Mohawk Hudson. Same as pre-Hartford last year – 10km with 5km steady at around goal 50K pace and then 5km a bit quicker at MP or a bit faster.
Warmed up very short to mimic race start ~ 2km and then did drills and 2x strides. Did this on the 1k loop so laps were consistent. On day 3 of CHO depletion, but did take one gel before this workout (as I have in the past) to get me through. This seemed to feel all right.
Started off a bit logey feeling but once I got warmed up, I actually felt very comfortable for the whole first 5km. Effort was very consistent and only first km was over 3'20. I made two active gear shifts, one around 5km (16'30) and a second at 8km (26'02). I basically went ~3'18 for 5km, ~3'10 for 3km and ~3'06 for 2km. All this felt good and even the last 2km felt quite relaxed. I absolutely did not push this at all, no kick, didn't even try to accelerate in the last km or 500m at all. I felt I could have held that for another 30 minutes!
Really pleased and surprised by this one, especially given how bad I've felt for the last 36 hours of depletion. Maybe that one gel makes a huge difference but legs/energy definitely didn't feel quite normal. I'm very excited about the race on Sunday, especially as weather looks decent and it seems like I might have some company in Lou Serafini and a Kenyan.
Cooled down longer since I was still feeling decent and I figured I'd feel awful this afternoon.
Total run 13.5M.
1 km 3'21.9 (3'21.9) 160
2 km 6'39.2 (3'17.3) 164
3 km 9'57.3 (3'18.1) 166
4 km 13'11.4 (3'14.1) 172
5 km 16'30.9 (3'19.5) 172
6 km 19'42.5 (3'11.6) 173
7 km 22'51.6 (3'09.1) 175
8 km 26'02.4 (3'10.8) 177
9 km 29'08.4 (3'06.0) 177
10 km 32'15.1 (3'06.7) 177 (15'44.2)
XT: OFF – was thinking about doing legs but being conservative and want to be a little bit rested for Sunday.
3pm: Very slow and brutal shakeout around CC. Felt very bad. Last CHO depleted run thank goodness. At least it's beautiful outside still! In the 70s. Total run 5M, NT.
Jueves, 6 de Octubre, 2016 – 7am: Woke up naturally before 5am quite hungry so got up at 5 and ate a granola bar and a bunch of animal crackers – very happy to be back on carbs. Felt much better almost immediately. Went out to run at 7am and felt quite good. Amazing the difference fuel can make. Running easily in the 4'20s out the door and 4'00s on the way back (MVN o/b). Not pushing at all. Total run 13km, 8M++ in 57'.
XT: Back/hips
3:30pm: Ran back from Alexandria doing some errands. Felt good, a bit heavy from eating a lot in the last 7 hours but energy very good all day. A bit longer than planned. Total run 5M- in 35'.
XT: p90x.
Viernes, 7 de Octubre, 2016 – 11am: Travel to Albany this morning, so ran late. Woke up feeling good around 5am and walked to the airport in the dark which was quite pleasant actually. Some free breakfast in the admiral's club and only a few delays – relatively smooth sailing. Picked up the rental and drove out to Niskayuna where I'm staying at the Pagano's for 2 nights (and helping house- and cat-sit while they're away). Got settled in and then headed out to run.
Luckily, the course runs very close to their house (i.e. like less than 1km away), so I ran from here over to the bike path which is the race course and then out/back from about the 10km point back towards the start. Legs felt very good despite having just gotten off a plane. Running very comfortably in the 4'00 range. Beautiful day, too; it's definitely really fall up here, with the leaves turning and the cool, crisp, bright air that I remember oh so well from my days in Concord and Saratoga and Somerville, in such stark contrast to the still-so-green and -humid afternoons of northern Virginia that I find myself missing these perfect cross country days, before I remember how lucky I am to have encountered one – like running into a celebrity at the airport – and how the majority of October is dominated not by these sunny, clear idyllic New England (yes, I know we're not technically in New England here, but North-East) fall days, but instead by the brutal cold-rain-down-the-back-of-your-neck days that are impossible to dress for (freezing in soaking layers or freezing without soaking layers), and that's before you even get to November and the annual early blizzard that catches everyone off guard before the real blanket hits in December and lays down, making itself at home until sometime in late February or early March when that first unseasonably warm patch of days pops up on the 10-day forecast and gets everyone's hopes up for an early spring before plunging back into sub-freezing gloom until long after Punxsutawney Phil had promised.
Anyway, a very good run. There are mile markers and every 5km marked in spray paint on the path and they seemed fairly consistent with my garmin. The course on the bike path is very flat and fairly straight which will be a nice spot to zone out in the early/middle part of the race. The beginning is a bit more rolling with one very steep ~200m downhill just before the 5M mark. Otherwise, pretty gentle.
Finished with 4x strides in two different pairs of shoes (clifton 2 and 3s for comparison's sake). Both felt great.
Total run 7M++ in 47'.
XT: Back/hips
3:30pm: Drove over to Niskayuna HS to do a bit of pace running in shoes warmed up very short about 1M and changed into race shoes and did 800m in each pair. Ran 2'37 and 2'30 at about the same effort. Definitely all the difference in the shoes, probably more in warming up in that first one, but the second one definitely felt better. Finished around the grass easy. Legs felt very good. Total run 5km, 3M+.
XT: Hips
Sabado, 8 de Octubre, 2016 – 8am: Slept in and felt great! First night at full O2 in a while. Woke up feeling quite good at around 4:30am but went to the bathroom and came back to bed to doze and slept until 6:45am. Great!
Ran very easy out/back on bike path from Marshall's in the opposite direction as yesterday (from about 10k forward on the course). Super flat and straight on this section. Very nice. Ran 1km quicker on the way back in 3'16 which felt very good and relaxed. Jogged back. No strides today. Total run 4M+ in 28'.
XT: OFF
PM: OFF – drove to get my number and drop off my bottles around noon and then came back and relaxed, took a nap, got some work done, etc.
Domingo, 9 Octubre, 2016 – Sparknotes: Mohawk Hudson Marathon – 1st, 2'15'53, PR, CR. 68'41/67'12. Excellent tactics. Held back from 6k-22k and moved from 4th at half to 1st at finish. Extremely strong. Surprised myself today.
5-6:30p: Dinner gnocchi and snacked on animal crackers.
8-9pm: Reading/bed
4-4:15: Woke naturally, slept very well
4:40-5am: Black coffee, 1 NV bar
5:45am – drove to albany, parked got on schoolbus and rode out to Schenecty (??) start area. Arrived before 7am. Cool. Found a port-a-potty, found a sheltered spot and sat for a while. Began warm up around 7:20am. Jogged 1.5km on grass, felt fine, speeding up. Drills. Dropped off sweats except for throwaway long sleeve. Took gel at 7:45am and then did about 150m quick from start line, peed, and then quick back. Felt very good. Running way too fast. Peed like 100 times as usual in the 20 minutes before the race. Got to the line in plenty of time.
Notes
0-5 km 16'09.5 (16'09.5)
First mile is comfortable in 5'22, in pack with Serafini and two Africans. After that, Tisia goes to the front and pushes and we are running quite quick, especially up a mild but constant gradient until just after 4km. I am concerned but tucking into the back.
5-10 km 32'13.7 (16'04.2)
Pace is maintained after 5km and after 6km (3'08) I actively drop back as this is just way too hot for this early in the race for me. Louis sticks with them a bit longer but by 10k I think it was the 2 of them in front, Louis maybe 5 sec back and me another 5 sec behind him. I am running comfortably ~3'20/km at this point.
10-15 km 48'37.7 (16'24.0)
Louis and I are running the same pace and so I make a small surge to catch up to him and we run together for a while, sharing the lead. Nice. I am not feeling great and I think I thought I was running slower than I was.
15-20 km 1'05'08.0 (16'30.3)
Passed 10M in just under 52'30, so I know I'm still making decent time. The pace is feel much more relaxed and I'm hoping I can recovery from the quick start. The two Africans are still well clear of us, but I think before 20km, the Ethiopian had started to drop back (I had predicted this) but Tisia still looked very strong and was 30+ seconds ahead at times. There is a steep downhill where Louis puts a real gap on me maybe 5 sec in like 100m. No man's land again.
20-25 km 1'21'10.6 (16'02.6)
Big hill leading up to the halfway, which I pass in just over 68'40. Lou is relatively close in front of me and he and I are both moving up towards the Ethiopian. Around 14M, I know the course tops out and I use this as a big mental cue to start working. I make a pretty serious gear change and pass Louis and the Ethiopian fairly quickly and am now chasing Tisia who still has 20-30 seconds on me.
25-30 km 1'36'45.7 (15'35.1)
I am working very hard and surprising myself by how much I have left in the tank. I am almost intimidated by the splits and so decide to stop looking at the watch and try to focus just on catching Tisia. I am closing the gap but very slowly. No huge move, just 1-2 sec per km. By the time we make that left turn and then town the big hill (around 17M, 29km), I think I was down to about 12 sec back. I was really just racing though and trying to focus on the moment and not think about how much was left, etc. Passing 30km was a big milestone and I started doing math about how fast I was running and realized I was well under PR pace. This was a big mental boost.
30-35 km 1'52'39.4 (15'53.7)
This was a long, quiet, and straight section of road where I finally reached Tisia and took the lead. There were cones on the road and it started out as "two cones" then "one cone" and then I was just a few steps away and made a little surge to finally close the gap. Based on how good I was still feeling and how fast I was running (and how quickly I had close the last 5 seconds or so of gap), I expected to fly by him and have that be that; but, he tucked in right behind me and hung on. We had a race!
35-40 km 2'08'51.5 (16'12.1)
We cut under the highway and then up a small hill to the last stretch of bike path into Albany. Tisia was still tucked directly behind me and did not seem to be budging. I was torn between whether I was going to slow down and conserve energy for a very hard finish or whether I should just continue pushing, even if it meant leading and allowing him to draft. I thought a lot about the serenity prayer – accepting what I cannot control and working with what I can – and realized that the best thing I could do was run as fast as I could, even if that meant helping the guy behind me draft. Even if I got second doing this, I would know that I ran as fast as I could have and that would be worth it. So, I continued to grind and push. At some point, coming off a turn, I glanced back and he was gone. Like not visible at all. This gave me a big jolt of energy and I surged hard for a minute or so just in case he had just fallen off a bit and I'd missed him (we were also running through the back of the HM at this point, so it was possible I had just missed him). On a longer stretch, I took a good look back and he was definitely gone. I knew I was going to win based on how I was feeling and the empty road behind; it was just a matter of how fast I could run.
40-42.2 km 2'15'53.0 (7'01, 3'11.4/km)
Jon had told me that if it looked like I was close to a PR, I should, by all means, go for it, because those days don't come that often in the marathon. I remember thinking if I was close to 2h11 at 25 miles then I would be very close to my PR. I was well under this, maybe even under 2h10? Fast enough that I knew I would be way under my PB but I would be very close to sub-2h16. I remember feeling like I could let up a bit after I dropped Tisia and then thinking how much better it would be to run a few second faster and be able to say I'm a 2h15 marathoner instead of – still – a 2h16 marathoner. So, I didn't hold back at all in this last 2.2km. There were a lot of turns on the bike path and it really felt like it would never come, but finally I saw that big bridge and I knew the finish line was pretty close to the other side. When I saw the 26 mile marker I went VERY hard I saw the clock from pretty far and I think it was still like 2'15'3x and I really sprinted very hard and just snuck under to run 2'15'53 (official), overall average 3'13.2/km, 5'10.9/M. Halves: 68'41/67'12
Full splits and HR Data (*NB – first 4km HR data were off as it appears something was wrong with the monitor. It said my HR was 220 less than 2 minutes into a relaxed first mile and my max HR is more like 196).
1 km 3'17.4 (3'17.4) 193*
2 km 6'37.1 (3'19.7) 185*
3 km 9'50.2 (3'13.1) 175*
4 km 13'02.0 (3'11.8) 172*
5 km 16'09.5 (3'07.5) 169 (16'09.5)
6 km 19'18.4 (3'08.9) 169
7 km 22'27.6 (3'09.2) 170
8 km 25'36.0 (3'08.4) 167
9 km 29'03.1 (3'27.1) 165
10 km 32'13.7 (3'10.6) 167 (16'04.2)
11 km 35'26.9 (3'13.2) 169
12 km 38'45.1 (3'18.2) 166
13 km 42'03.3 (3'18.2) 166
14 km 45'23.7 (3'20.4) 167
15 km 48'37.7 (3'14.0) 168 (16'24.0)
16 km 51'54.1 (3'16.4) 169
17 km 55'11.0 (3'16.9) 170
18 km 58'31.2 (3'20.2) 168
19 km 1'01'48.7 (3'17.5) 169
20 km 1'05'08.0 (3'19.3) 167 (16'30.3)
21 km 1'08'31.9 (3'23.9) 169
22 km 1'11'44.5 (3'12.6) 170
23 km 1'15'02.1 (3'17.6) 171
24 km 1'18'07.2 (3'05.1) 170
25 km 1'21'10.6 (3'03.4) 171 (16'02.6)
26 km 1'24'18.6 (3'08.0) 169
27 km 1'27'27.1 (3'08.5) 166
28 km 1'30'33.2 (3'06.1) 168
29 km 1'33'34.0 (3'00.8) 166
30 km 1'36'45.7 (3'11.7) 167 (15'35.1)
31 km 1'39'54.6 (3'08.9) 168
32 km 1'43'06.9 (3'12.3) 166
33 km 1'46'13.0 (3'06.1) 168
34 km 1'49'24.5 (3'11.5) 169
35 km 1'52'39.4 (3'14.9) 165 (15'53.7)
36 km 1'55'52.5 (3'13.1) 165
37 km 1'59'09.0 (3'16.5) 164
38 km 2'02'21.9 (3'12.9) 164
39 km 2'05'37.7 (3'15.8) 166
40 km 2'08'51.5 (3'13.8) 165 (16'12.1)
41 km 2'12'10.0 (3'18.5) 164
42 km 2'15'23.0 (3'13.0) 165
42.2 km 2'15'53.0 (0'30.0) 168
5:30pm: Got home super efficiently by 3pm (1:30pm flight was a bit brutal but short so not too bad). Watched the Chicago marathon replay with my feet up on the couch and ate a bunch of animal crackers. Did a short shakeout around CC finshing at Kabob Palace and walked back for ethio. Didn't feel too bad. Another long run… Total run 3km, 2M- in 14'.