"No one single instant of it was unendurable. Here was a second right here: he endured it. What was undealable-with was the thought of all the instants all lined up and stretching ahead, glittering. … It's too much to think about. To Abide there. But none of it's as of now real. What's real is the pain… He could just hunker down in the space between each heartbeat and make each heartbeat a wall and live in there. Not let his head look over. What's unendurable is what his own head could make of it all. What his head could report to him, looking over and ahead and reporting. But he could choose not to listen; he could treat his head like clueless noise. He hadn't quite gotten this before now: everything unendurable was in the head, was the head not Abiding in the Present but hopping the wall and doing a recon and then returning with unendurable news you then somehow believed." – David Foster Wallace, Infinite Jest.
Thank You
Before we get started, I would not even be thinking about this with the love and support of so many people. Thank you to:
my amazing parents, Tim and Valerie who have supported me with the same gusto since I was a knob-kneed high schooler; my coach Jon Waldron who has been an ever-present source of wisdom and friendship since the very beginning; my amazing life-partner and race support-person Mariana Liebman-Pelaez, who not only kept me cooled and hydrated with perfect bottle exchanges during the race but kept me happy and calm in the months (and years) before; our truly one-of-a-kind Team USA manager Susan Dun, without whom I probably wouldn't even have been in Doha and certainly not on the podium; the whole US National Team – birds and bears – for all their friendship and tough-as-nails running; Jamie Russell and Troy for housing me and putting up with my off-kilter sleep-schedule for two weeks in Doha;  all my sponsors including HOKA ONE ONE (especially Mike McManus and Sunny Margerum who do a fantastic job managing a lot of needy athletes); everyone at STRIVE – especially the 2016 STRIVE-Peru squad who helped me put in the amazing foundation upon which this season was built; Nuun for keeping me incredibly well hydrated which was so important during this race; RunGum for keeping me caffeinated; TheFeed for supplying all the gels and bars I could ask for; my manager Luke Maher for all his help, USATF/IAU for their support; Aspire Logistics for putting on a real world-class event; and of course all of my friends, fans, and family who have been sharing in this journey with me (and putting up with my bizarre lifestyle for years). It's been a wild ride!
---
This race has been almost an entire year in the making. After a disastrous race at last year's World Championships, I left Doha unsatisfied and vowed to figure out what had gone wrong in 2015 and come back in 2016 ready to give it everything I had.
After qualifying for the team by winning the Mad City 50K in April – a race which was redemptive in its own way, as it was the first time I'd really run well over the 50km distance, I spent my entire summer and fall of 2016 preparing for these 50km in Doha. I had the best summer of training in my life, thanks in great part to the many STRIVE-Peru runners that helped push me through hard 3 hour runs at 10,000 feet above sea level from June to August.
I knew I was in "special shape" when I ran a huge personal best for the marathon at the 2016 Mohawk Hudson River Marathon (2'15'52) just 34 days before Worlds, and without even a proper taper to speak of. Knowing I was as fit as I needed to be, those last 34 days were all about preparing for the conditions that I'd face in Doha: running in sweats on the treadmill with a space-heater cranked up to 85F, doing long runs in the middle of the blessedly warm Indian-Summer days while dressed as if it were mid-winter, and finally, flying out to Doha two and a half weeks early, running on the course, the brutal bricks, each day and letting my body acclimate to the humidity, heat, and time change to get to the starting line as ready as I could possibly be.
And then, it was time to go. Before I knew it, the rest of the team was here, opening ceremonies, team dinner, and then one last morning shakeout, one last 8 minute warm-up on the grass, the US singlet on, pounding a last gel, pushing my way up to the front of the starting corral, wishing good luck to my teammates – brothers, now – and we were off.
0-5km (17'46)
A breakaway happens before the end of the first lap, before, even, the first kilometer. Maybe 8-10 Africans and one Japanese, no Americans/Europeans go with them. Interesting that we don't seem to need Tommy (Edit – Tommy had originally planned to serve as a "false rabbit", volunteering to lead the race quickly in a hopes of drawing others out too fast. See Tommy's post here for his wonderful description of the plan). They put a few seconds on us in the first lap and then I'm running with Harm and a couple others while Tony and the rest of the team are a few second back in lap 2. The front pack is maybe 100m ahead by the end of lap 2.
5-10km (17'26)
Tony and I are running together along with Harm and a few stragglers from the front group, already falling off. Tony and I are chatting and casual, not worried at all about breakaway. Laughing about those who are already falling off front pack.
After 3 laps, we accelerate a bit. "Less than a marathon to go! We've done this lots of times." Running very even 3'25s.
10-15km (17'16)
Trading off leading laps with Tony. In a great rhythm and alone. By 15km we are closing the gap and realize we will catch them soon. We are steady. They are slowing down
15-20km (17'21)
We catch the leaders on lap 7, probably around 16km, right before the aid station stretch. We'd talked about what to do at that point and decide to tuck into their (slower) pace and hang out for a bit. It feels very comfy to slow down and I am clipping heels. We resume the pace we were running shortly after passing 17.5km as it just feels more natural. Still just trading off lead and staying relaxed.
20-25km (17'23)
NB – I miss my bottle (only time this happened) at 22.5km and I'm feeling fine so don't go back for it. Tony and I are leading at this point with some of the others trailing behind and some right with us.
I actively slow down on the 22.5-25km lap because of the missed bottle and being super conservative. I can feel how big a difference it is not having the cold bottle to squirt myself with continuously. I do manage to grab a plain water bottle at the 1K aid station which is thankfully cold. I pour most of it on myself and drink a bit.
25-30km (17'27) – halfway in 1'27'12
We pass halfway in just over 1h27. I remember thinking that 2h54-55 will probably win and sub 3h00 will probably medal. Still running conservatively at this point. Tony and I are still talking a fair amount and said we want to wait until 30-35km to make a move. We are with both Zimbabweans at this point (I think).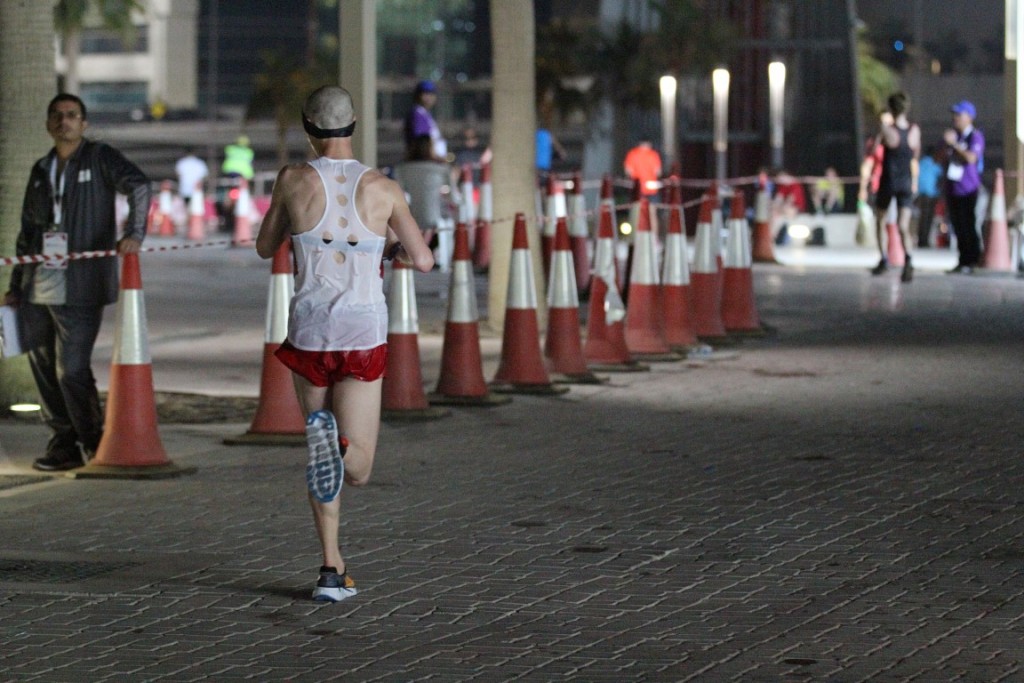 30-35km (17'17)
This is where things start to happen. First, one of the Zimbabweans and Tony drop back slightly and Collen and I have the lead. It doesn't feel like there's been a big acceleration yet, so I wonder if Tony is struggling. I am leading at at this point.
I think it is then around the 33.5km mark that Tony says he needs to use the potty and I honestly think that he may be done. (That said, I also remember my own "issues" at Mad City, which I then went on to win, so I know that it's not a huge deal to spend 10-20 seconds clearing out some space in a 3 hour race). He kind of takes off about 200m in advance of the potty and I slow down a lot to hang back so we spot him quite a bit of room. I figure it'll be better for both of us and the team if we can stick together as long as possible. Collen takes off briefly and I try to tell him that Tony is just going to the bathroom, that it's not a real break, and he settles back down.
35-40km (17'40)
Tony makes a big move to catch up to us quite quickly (less than one lap later) and he does NOT slow down at all, but just motors on by. He is running significantly faster than we are and I just don't feel like I can match him to hang on. Makaza does, though, and goes with him and before I know it, they have a 20m lead on me going into the aid stations. Part of me really wishes I were up there duking it out, but I also am aware of how costly a big surge like that could be with almost 15km left and it's not worth the risk. I know I may be settling for bronze if those two are strong enough to hold on, but I'd rather run a more conservative race and get bronze than risk totally blowing up for a chance to be up at the front with 12km to go.
Makaza barely even lasts 1 lap though and is slowing down significantly before 40km. I realize I'm going to catch him and then it's just a matter of what to do at that point. I am also slowing down a bit at this point. My legs and feet are beginning to feel quite rough. Each sharp right hand turn (of which there are 5 per lap) is excruciating on my right outside forefoot. I am no longer feeling comfortable and know that at this point I will need to take myself to a very dark place to hang on for these last 30-40 minutes.
I am channeling Don Gately – building a wall around each second, each heartbeat, not letting my mind thinking beyond enduring this one moment. Each moment that passes is endurable, each moment that goes by is forgotten, each moment ahead is ignored. I focus only on the NOW, and if I make the NOW a short enough time-frame, even those sharp right hand turns are bearable. This is what it's all about.
40-45km (18'31)
I catch up to Makaza and actively tuck in behind him to slow down and take a few minutes of recovery. I don't have a great idea of exactly what I'm going to do at this point. Less than 10km remain. I know he is very strong over ultra distances (he's a previous World Champion at 50km and was 2nd at Two Oceans, one of the most prestigious ultras in the World, this year), so I am thinking that my best strategy will be to wait until as late as possible and then, if we're still together, make a hard move relatively close to the finish line (maybe somewhere in the last lap, even the last kilometer or 500m).
And so these laps are quite slow, but I am trying to run his pace. He is clearly beat as every time I drop back and let him lead we slow down to what feels like a VERY slow pace. So, I lead the two of us and keep the pace just a bit faster than I feel like he is comfortable running, but doesn't feel too bad to me. I figure if he is running a bit too fast, I might also break him from farther out which would obviously be beneficial as well.
I do know that we're running quite slowly, though, and I'm thinking a bit about the runners behind us. It's extremely difficult to tell where anyone else is because of all the other runners on the course. I have lapped everyone on the US team (except Tony) at least once and looking back yields very little useful info because there is a constant stream of runners. I know that the a lot of best runners in the field are probably accounted for (Tony, me, Makaza, the other ZIM guy who is way back at this point), but I also know there should be the KEN runners back there and – who knows – some other rando could be having a great race and charging hard over the last 10km.
Still, I decide to wait to make a strong bid. I'm feeling just bad enough that I'm almost sure I can maintain this effort to the finish line, but it still seems to far away to take it any further.
45-47.5km (9'10 – 18'20 5km pace)
Around 47km, with about a lap and a half to go, I finally drop Makaza for good. The pace has slowed dramatically (I tuck behind him on the first long straightaway along the fields) and I can tell he is really struggling and decide I am close enough to make a bid for home. COMMIT.
I look back briefly on the aid station stretch and don't see him, so I know I'm in good shape. Something odd happens at that point, though, which is that two other runners come up onto my shoulders. They are running as fast as I am. One of them looks like a total noob (looks like he's sprinting and we're only running like 3'30/km), so I figure he must be a relay runner that is about to finish. The other looks quite good and I think he must have snuck up on me.
As I pass the aid station, Mariana shouts something to me about Great Britain and now I'm almost sure that this white guy running with me IS in the race and I'm going to have to fight it out with him for bronze/silver.
47.5-50km (8'47) (17'34 5km pace)
As we pass under the finish line for the penultimate time, I muster up enough energy to ask if this guy next to me is finishing. He says yeah, he's on his last lap. That's all I need to hear and I make a hard move going around the first corner up that tiny incline and don't look back. The increase turnover feels relatively terminal – i.e. I know that I cannot sustain this indefinitely, but I also know that I have less than 9 minutes of running left. I am hoping that I've got at least enough to last that long.
I can tell that he's not right on my shoulder and I think I look back at some point, but again it's really hard to see who is who in the race. I am running out of desperation at this point and just about as hard as I believe I can sustain to the finish line.
Each corner is one tick short of unbearable at this point. As I pass the aid station for the last time, I still don't know if anyone is around me so I drive, hard, hard, hard, channeling the fast 500s I'd done in preparation for this moment, on the course, all the way to the finish line, using that little downhill grade, letting the legs fly over, trying not to decelerate too much into that last sharp right hand turn, my foot screaming up out of my throat as I plant right on that spot, the hard brick and tile, less than 200m to go, all arms and charging legs, closer and closer, a finishing tape up (?) and a brief moment of confusion as I wonder if Tony has dropped out and I'm winning the race, but then I'm across.
Post-Race
On the ground, Susan, Mariana, and Tony are all there. Cameras are flashing and I literally can't stand, can't even flex my legs. My feet throb. Someone offers to bring a wheelchair over and Susan says, "no, he should walk." After a few minutes I, and they, realize that won't happen – the walking. I can't even stand, let alone walk. I'm tearing up at even the slightest attempt to put weight on my feet or contract my leg muscles. Someone helps me into a chair and I'm rolled off to the medical tent, everything brightly blurry and pulsing.
They lift me onto a table and help me drink, massage and ice my legs to help with the cramping and cool me. My temperature is 37C and I remember being freaked out because I don't know what that is. BP is normal. Susan gets yelled at by the chief medical guy. Oops.
Each minute makes the next seem more bearable – in stark contrast to the last minutes of the race.
I'm feeling more human, interacting with the doctors, Mar, Susan, Tony, Tommy and Senseman and Fred who have all finished within the next 30 minutes or so. At some point, I need to get to the Flower Ceremony and I manage to baby-step my way (leaning on Mar) the 50 ft or so to the podium. It's surreal, especially in the dark of night, the bright lights, some funky effects on my vision.
I am happy, satisfied. Tony absolutely crushed it, I know. And even if I had gone with him when he made his big, I don't think I had in me what he did today. He's got that "Doha Magic" – somehow his body is just able to handle this course and conditions better than just about anyone, it seems. I, on the other hand, am happy to say that I squeezed just about every ounce out of my potential for this day. I was the most well-prepared that I could possibly be, for the heat, for the bricks, for the distance, for everything. Could I have run a tiny bit faster? Maybe with a slightly more even last 10km – going a bit harder from 40-45km – but who cares? I wasn't thinking at all about pace or splits at that point; all I needed to do was beat Makaza. And I did that.
At some point, I also find out that Team USA won the gold by a fairly small margin (Bryan Morseman, our 3rd, had finished in 3h06 and we'd beaten GB by 3 minutes). This was great as I had really grown fond of this group and – Trump be damned – it still feels great to get the team win for the US.
Tony and I spend maybe two hours sitting in the drug testing tent. Pounding liter after liter of water and sports drink, trying to get ourselves to be able to pee the 100mL so that we can leave. Everyone else is already back at dinner. Good problem to have.
Finally, we get a golf-cart ride back to the hotel (thank goodness) and meet up with most of the rest of the team. It's well after midnight, so everything in the hotel and mall is closed. The concierge recommends a Turkish place relatively nearby that's open late and we all squeeze into two cabs and head downtown for a wonderful kabob meal. Nothing better than great food and great company to celebrate a great race.
It's close to 3am when we try to leave the restaurant and no cabs or ubers are in sight, so our waiter casually offers to give us a ride in his car. No biggie. We finally arrive back and walk across the fields – all of us limping and baby-stepping like a wounded battalion.
I've had way too much caffeine to sleep soundly, but I somehow manage to doze for an hour or so. But it doesn't matter. This is the end of this chapter. And I've got at least a few days until the next will begin. This is all I have.
2016 Fall Season
November 11, 2016 – 50km World Championships (Doha, Qatar) – 2nd, 2:56:04 (Individual Silver Medal, Team Gold Medal)
October 9, 2016 – Mohawk Hudson Marathon (Albany, NY) – 1st, 2:15:52 (Course Record, Personal Best)
October 1, 2016 – WW Alexandria (Alexandria, VA) – 1st, 18:23
September 17, 2016 – Rock n Roll Philadelphia 5K (Philadelphia, PA) – 1st, 15:18
July 30, 2016 – STRIVE Mile (Pisaq, Peru) – 1st, 4:09 (4:32 conversion) (Meet Record)