Weekly Summary – The season ends with a bang: 2nd place, individual Silver Medal, at the 50K World Championships, helping to lead the USA to Team Gold! What a race, what a week, what a season. More to come, but, for now, it's time for some much needed rest and recovery.
Don't forget to follow me on Instagram and Twitter (@TylerCAndrews). And, of course, don't forget to check out STRIVE's 2017 Programs! You can come do service work and train with me in Peru or Kenya and for 2017, we'll once again have programs for High School and College students, and even a 10-day trip for adults and families, so be sure to take a look if you're interested in an amazing summer experience! Finally, I have a few spots open for athletes looking for custom training plans and online coaching. Check out my site and email me if you're interested!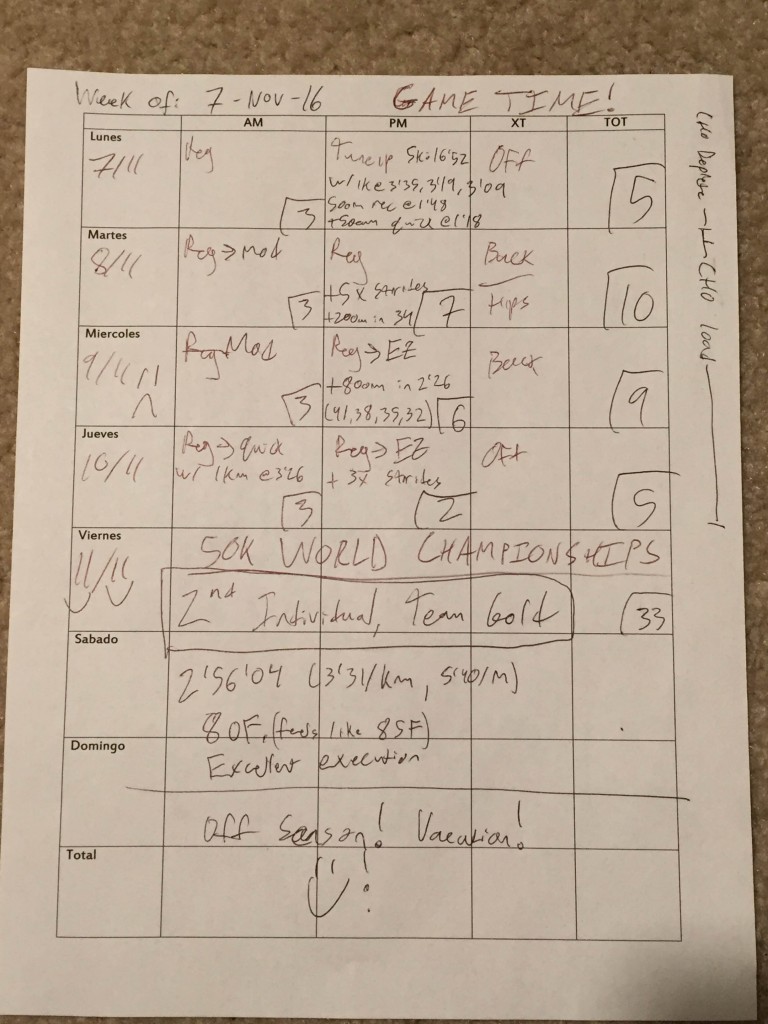 Lunes, 7 de Noviembre, 2016 – Sparknotes: last tuneup before Worlds! 5km continuous in 16'52 with 1km @ 3'35, 3'19, 3'09, 500m rec @ ~1'48 (3'36/km) + 500m quick in 1'18. Very good!
12pm: Same shakeout down to the grass. Felt very fatigued this morning. Pace significantly slower. To be expected. Very excited for tomorrow, last day of depletion today! Total run 5km, 3M+ in 24'.
XT: Back/hips (1x)
6pm: Last tuneup today. The usual pre-marathon/50K workout: 5km continuous with 1000m on/500m off x3 and then 500m quick to round up to 5K.
Did this workout on the race course. Weather was good. Felt cool at 30C (86F) and windy, not too humid. Warmed up in track suit and worked out in shorts/t-shirt. Had Susan hand me a bottle after lap 1 for practice. Normal 2km warm up, drills, a few light strides.
Workout felt fine. First 1km was super easy and slower than I expected but kept HR in the 150s. After that, didn't really slow down much for the first rec 500m and then got a bit quicker on the next two 1Ks, 3'18 and then 3'09. Neither of these felt at all hard, though. Very relaxed pace. Rec 500s were around 1'48 (3'36/km).
Last 500m felt great and had very good acceleration (plus the nice gentle downhill first 100m or so) and then made the sharp turn and reaccelerated the last 200m+ into the finish. Ran 1'18 which is very good speed for me (~62s/400m pace), especially on depleted legs.
It's worth mentioning that I felt pretty fatigued today, could barely manage 24' 5K this morning, but I took a gel before starting this workout which I think really helped. Definitely still felt weak, not 100%, but about a billion times better than this morning. Maybe it's just mental, but I think it helps (without totally sacrificing the CHO depletion). Thank goodness this is the last night of that!
Total workout was 16'52 for 5km. Hard to say much about the pace/HR data because I was spending such little time at each pace. Whatever, it felt good and that's what this is about at this point (and staying out of trouble). Yes, I've run this workout like a minute faster, but that's usually on the track (instead of obnoxious bricks and dodging small children and cars) and it's not 86F. Plus I was actively trying to run the first rep slow. I'm very pleased.
Cooled down very short as we were in a rush to get out of there. Ethio, etc.
Total run 5M+.
XT: OFF
Splits:
Time Split HR
1 km   3'35.0   (3'35.0) 158
1.5 km   5'28.6   (1'53.6) 162
2.5 km   8'47.4   (3'18.8) 168
3 km   10'36.3   (1'48.9) 167
4 km   13'45.6   (3'09.3) 173
4.5 km   15'33.8   (1'48.2) 171
5 km   16'52.2   (1'18.4) 180
Martes, 8 de Noviembre, 2016 – 12pm: Slept poorly last night between having the caff. Gel before my workout and the excitement about resuming CHO today. Finally fell asleep and woke up earlier about 10am to eat. Had a NV bar, some animal crackers and pretzels and felt much better just about immediately. Run felt very good. Super windy today, so a bit dusty, but felt quite cool with the wind. Ran on the grass, dodging sprinklers, and back. Felt very good. Ethio, XT, pool, etc. Total run 5km, 3M+ in 21'.
XT: Back hips, 2x, no weight.
6pm: Ran from Movenpick with some of the Team USA gang! (Everyone started arriving today). Ran mostly with Fred. The girls left with us and were running basically the same pace but didn't talk to us – classic high school 😛
Ran quite slow to keep everyone together. Legs felt extremely good and were ready to run much faster. Probably good to have a reason to hang back today. Did 6M in like 44' and then 5x strides and a very relaxed 200m which I thought was about race pace and ran 34.x woops! Very good. Jogged back after, cool down, etc.
Also worth noting it was over 80F but quite windy and felt very chilly. Ran in a track suit with a hoodie over it and barely felt hot. Wasn't sweating that much. Amazing.
Total run 7M.
XT: Back/hips (.5x)
Miercoles, 9 Noviembre, 2016 – 12:30pm: G-d help us all. Rough night, brutal morning. Running on rage and sadness and fear. Legs felt good, but maybe just awash with unfamiliar emotion. Total run 5km, 3M+ in 19'.
XT: Back/hips
5:30pm: Ran with Team USA and many others for group run at Aspire Park. Ran in the park a while and then over to the track with Tony and the boys. Legs felt very good tonight. Holding back a lot to run with the group. On the track, did a few strides and then 800m accelerating each 200m. Something like: 41, 38, 35, 32 for 2'26. Felt very good. Jogged back with the guys, short ethio and then athlete reception. Total run 6M++ in 49'.
XT: OFF.
Jueves, 10 de Noviembre, 2016 – 12pm: Last of these same old morning runs around the track infield! Warmer this morning. Felt good in track suit, 2x long sleeve. Holding back a lot and still running in the 4'10s. Ran 1km quicker on track in 3'26. Jogged back. Total run 5km, 3M+ in 20'.
XT: OFF
5:15pm: Very short shakeout around Aspire park as I only had a few minutes and just wanted to shake out before a bunch of standing around at opening ceremonies. Jogged around the park and then to the field. Did 3x strides which felt great. Jogged back and then over to the Dome. Abbreviated ethio. Total run 2M+.
Viernes, 11 Noviembre, 2016 – 12pm: Slept very well. Woke up around 11am and did the normal morning routine with a VERY light shakeout around 12pm. Jon and I thought it was important to stick to the routine and a 1M+ run wouldn't have any negative effects. Ran with Mar  on grass. Legs immeidately felt great. First km in 4'10 and then was running 3'34 after 1 minute of the 2nd km with no effort at all. Stopped and jogged back to Mar and then jogged back to hotel. Total run 1.9km in 8'30.
6pm: SPARKNOTES: 2nd place (to Tony), 2'56'04. Fantastic. Team gold. Love this team and crew. So pleased and joyously destroyed after this one. Full write-up to come.
Sabado, 12 de Noviembre, 2016 – Didn't sleep at all last night post-race. Went to the charity 5k/10k and walked back (some crazies ran it – nuts). Got in a couple hours sleep after that and then went to the closing ceremonies, got to stand on the podium (twice!) and took a lot of photos with the team and crew – wonderful. Finally, got a few hours to see the sights in Doha with Mariana, Caroline, and Adrian. In the evening, headed to the airport and flew to Dubai! Got to the AMAZING Habtoor Grand around 3am local time and absolutely blown away by the place. Upgraded for free to humongous suite with Ocean View. Dubai is wonderful.
Domingo, 13 de Noviembre, 2016 – Slept well, got up a bit earlier than I should have just because we wanted to make the most of our 36 hours here. Amazing day with beach time, reading – finishing up The Pale King, went to the top of the Burj Dubai, Dubai Aquarium, amazing dinner at Buddha Bar and some fun walking around the Marina. Really fantastic day. Up late again, maybe 2am.