August, 2019
Dear STRIVE-Kenya students, intern, parents, and supporters,
First off, we want to extend a huge THANK YOU from all of us at STRIVE and from all the people to whom you helped provide support this summer in Iten. Between the fundraising that  was done before and the hard work done on the ground in Kenya, we were able to have a positive and lasting impact on the community. So, thank you and congratulation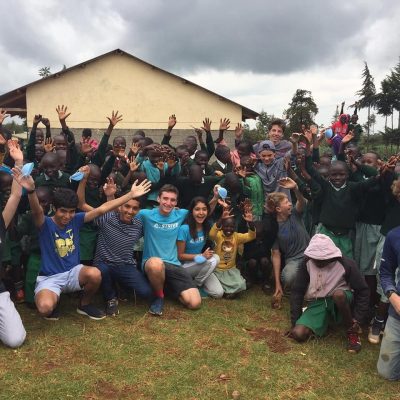 s on a job well done!
As you know, informed philanthropy is a cornerstone of the STRIVE philosophy, so we want to give a clear breakdown of how our groups spent both our person-hours and funds on projects this year. Below we've outlined the projects we worked on with the total cost of each and attached a spreadsheet with a budget for the service work completed.
Before our group of high-schoolers arrived, STRIVE staff hit the ground by reconnecting with heads of school to discuss projects that were being worked on and needed assistance to complete. We reached out to a few other local organizations to see where we were qualified and needed, but our effectiveness seemed best fit to local schools. 
In communicating our availability to a local primary school, Kiptabus, we were informed that one of their rooms has not been used due to the need to put in flooring and painting the walls. By helping to complete the flooring and painting, this room would become the new staff room and the old staff room would then be available as an additional classroom. Similarly, at Mindililwo Primary School, more shelving and a fresh coat of paint were needed to organize and beautify the library. Lastly, before we departed, we would be invited to St. Patrick's Secondary School to assist a few of their competitive senior student-athletes in applying to schools in the USA in an effort to be recruited. Our team of participants helped each of the three individuals by beginning the process of filling in the common application, which began with just opening a gmail account. We also spent a day in Eldoret by giving some support to nurses and teachers at Shoe4Africa Children's Hospital by playing games and other educational activities with children admitted for cancer treatment and other chronic ailments. 
By the end of the first week of the program, the high school participants had begun a regular schedule of manual labor involved in the painting of the classroom and library at the schools, as well as moving some dirt and manure around to fill in holes in the soccer field. Funds for community service were spent to purchase paint, painting tools, and transportation of these products. Towards the end of the second week, the group agreed to assist with the finishing of the flooring and shelving as noted above. 
In total, the amount spent on the painting project at the two schools totaled $884.25.  An additional $100.00 in funds was used for local labor to hire a painter to assist us in mixing paint and supervising the process. Towards the end of the service project, we were happy to see that the local carpenters hired were able to finish the flooring needed at Kiptabus. The cost of labor and flooring totaled $612.50. The shelving needed at Mindililwo totaled $450. The group also decided it was important to create a STRIVE "Scholarship Fund" with the remaining funds raised for Mindililwo to assist students that were in need. This amounted to $403.25 and enabled five 8th grade students to attend an educational school trip and another six students to pay off school fees needed to complete the remaining payments for the academic year which ends in November. Lastly, $50 was donated to purchase some needed resources for students and teachers at Mindililwo in preparation for upcoming national exams. 
In total, STRIVE spent $2500 on the ground towards the projects worked on by the high school participants and scholarship for Mindililwo students. 
All in all, it was an incredibly successful summer with a ton of great work put in by everyone. We will continue monitoring all of our projects via our contacts in Iten and post any significant updates on our blog. We can't wait to get back to Iten and continue trying to help the community grow and also continue learning from them. 
Please feel free to read over the budgeting spreadsheet which gives a detailed breakdown of all of our fundraising expenditure over the course of the program. Please don't hesitate to get in touch with any questions or comments; we're happy to answer anything.
Best,
Nic, Tyler, and Rob
 2019 STRIVE-Kenya Service Project Budget