Our first week in Iten has flown by. We have had a variety of activities, ranging from Swahili lessons to visiting schools. This weekend, we decided to venture from the H.A.T.C. to see more of the Kenya landscape. On Saturday, we hiked to the Torok Waterfall which is about 200 meters high. The trail spanned 4 miles on a rural cliffside trail that went through small communities. Our tour guide, Duncan, showed us a natural spring tucked on the inside of the trail. The water there is naturally carbonated. Colin was the only intern bold enough to try the water (despite only scoring 8/100 for adventurousness on his personality test), of course after using his trusty steri-pen to disinfect it. After passing several dispersed huts along the beginning portions of the hike, we reached a bigger community at the top, complete with a school, a volleyball court, and many animals. The children were initially cautious of us, which Duncan attributed to them not seeing many white people before. With the guidance of an older villager, we reached a slippery portion of the trail that was ridden with biting ants. We reached the foot of the waterfall, took some pictures, and then descended to the base of the trail.
Yesterday was filled with giraffes, rounders (British baseball), and our first dinner out (three hours long!). We began the day with a bumpy van ride to a nearby giraffe park. There, we strolled for twenty minutes through the brush checking out animal prints, caterpillars, locusts, impalas, and a conveniently placed antelope skull. We hiked up the top of a mound to be greeted with a beautiful, expansive view of the landscape, complete with twelve giraffes in the distance. We walked down the hill, approaching the tall, graceful creatures, eventually getting as close as 20 meters! The giraffes stayed still and stared at us, only moving their tails and ears to communicate with one another. We were amazed with the rare opportunity to be so close to these gigantic giraffes. Unfortunately, Nic forgot the STRIVE saddles but we hope to return at some point to ride them.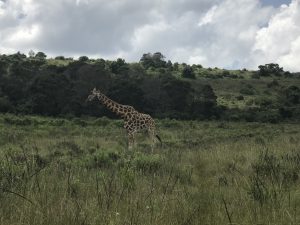 After a weekend of hiking to waterfalls and walking with giraffes, we celebrated our first week in Kenya with a dinner at the beautiful Kerio View restaurant. Despite the clear warning in the menu, the hour-long wait for our food was a bit of shock compared to home. We spent this time well though, cheering on Mexico as they upset #1 Germany in the World Cup. Nevertheless, Colin ordered a second dish after the group finished their (small) pizzas and salads, adding time to the lengthy occasion.
All in all, it has been an exceptional first week in Iten and we are looking forward to the next five weeks of adventure, service, and waiting on Colin's carbonara. Tuonane tena! (See you soon!)
-Colin, Cat, Cam, and Fran a.k.a. the Kenya Krew